Bill Frisell's Reimagined Americana
Posted On November 17, 2016
---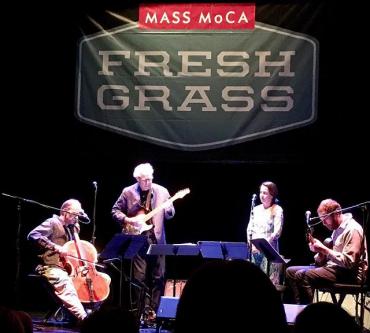 If there was ever a time to present a collection of expanded, reworked and new American music, it was several days after the 58th United States presidential election. Premiering a program resulting from the inaugural FreshGrass Composition Commission he was awarded by the FreshGrass Foundation (full disclaimer, No Depression comprises part of the Foundation), acclaimed jazz guitarist Bill Frisell, along with vocalist Petra Haden, cellist Hank Roberts, and bassist Luke Bergman, gave a news-weary San Francisco audience respite from recent political storms.
Not that the presentation wasn't a reflection on the state of American music, if not the idea of America itself. Interspersing re-arranged traditionals and popular favorites such as "Oh Shenandoah" and Stephen Foster's "Hard Times Come Again No More," with instrumentals reminiscent of Frisell's work on his own Big Sur (2013), the questions "What are the roots of American music?" and "Where can it go and grow?" hung unspoken throughout the performance.
 Frisell, of course, can go just about anywhere on his Telecaster, which spoke volumes, a clean-toned river of tremolo and melodic shifts traversing a storied heartland of song. His vivid reimagining of Pete Seeger's  "Where Have All the Flowers Gone" gave even Haden pause. "This one always fucks me up," she exclaimed, looking at the music on her stand before clasping her hand over her mouth at what she'd let out onstage. Frisell only chuckled, put his arm around her shoulders briefly, and then stepped back to lead his ensemble through a spirited musical wilderness, Haden's supple voice rising and falling, Roberts bowing and plucking, Bergman nimbly playing and at times, singing. As it turned out, they all more than held on just fine, Frisell's articulate lines expanding and contracting time as the song moved through the verses, adding that much more gravitas to the McCarthy-era meditation on war and death.
Where have all the flowers gone, long time passing?
Where have all the flowers gone, long time ago?
Where have all the flowers gone?
Young girls have picked them everyone.
Oh, when will they ever learn?
Oh, when will they ever learn?
Frisell's song selections were both timeless and timely: he followed "Hard Times" with an instrumental interlude that briefly referenced "This Land is Your Land."
The relish with which the players approached their task was a delight to witness as well as hear. Frisell has played or collaborated with the assembled musicians, respectively, for decades, but never all together at once. Describing them, with much affection, as "badass," he told the audience, after they'd taken their bow, how they'd first rehearsed the material only two days prior to the show.
Their encore, taking cues from Haden and Frisell's earlier collaborative work and comprised of "Single Girl," "Wildwood Flower," and "Moon River," was a relative walk in the park.
---