Asleep at the Wheel, Eilen Jewell sparkle on Night 3 of Twangfest 17
---
It's a rare night when a music fan can see Texas-swing legends Asleep at the Wheel in an intimate venue, but that happened on June 7, 2013, at Blueberry Hill's Duck Room on the third night of Twangfest 17, St. Louis' annual four-night festival of American roots music. 
And the Wheel found a well primed crowd, taking the stage after a knockout set by singer Eilen Jewell and her fine band, featuring guitarist Jerry Miller.
The seven-member Asleep at the Wheel, founded in 1970 and still led by singer-guitarist Ray Benson, has always been a force onstage, and the latest incarnation continues the tradition. Blasting through 23 songs in nearly 90 minutes, the band crossed genres from Western swing and boogie woogie to blues, rockabilly and country.
Principal vocalists Benson, Jason Roberts (fiddle and mandolin) and Elizabeth McQueen (acoustic rhythm guitar) traded lead chores and combined their voices for jazzy three-part harmonies, which became four- and five-part harmonies with the additions of pianist Dan Walton and bassist David Miller.
Those five, plus David Sanger on drums and the fabulous Eddie Rivers on steel guitar and sax, had the sold-out, multi-generational crowd of 350 shaking and dancing.
To say that Roberts' solos – or Walton's or Rivers' or Benson's – were a highlight of one song or another would be a useless exercise. Each of them tore it up on every song, a happy band of serial soloists given plenty of space to stretch out.
Nearly every song was a memory nudger; the older the listener, the more memory cells got nudged.
"Miles of Texas" gave way to "Route 66." Bob Wills and the Texas Playboys' "Ida Red" was followed by Waylon Jennings' "Bob Wills is Still the King." "St. Louis Blues," featuring Benson's best vocal of the night, preceded "Beat Me Daddy Eight to the Bar," with pianist Walton doing some scintillating boogie beating.
"I'm Sitting on Top of the World," a duet by McQueen and Willie Nelson on the recent Willie and the Wheel CD, featured Benson instead, who said: "Willie couldn't be here tonight … because he was never gonna be here tonight."
"Ray," McQueen said of the 6-foot 7-inch Benson, "is the world's tallest (but not highest) Willie impersonator."
The set raced to a finish on "Choo Choo Ch'Boogie," with pedal steel wizard Rivers dashing to the front of the stage for a dazzling sax solo; "Hot Rod Lincoln," made famous by Benson mentor Commander Cody and which featured Benson musically quoting the Dragnet theme and impersonating Mr. Ed – yes, Wilburrrrrr, that Mr. Ed; and the swinging "The House of Blue Lights."
The band returned for a quick encore that featured the Dale Evans-penned "Happy Trails" from The Roy Rogers Show, and the "Texas Playboys Theme" ("we're the Texas Playboys from the Lone Star State").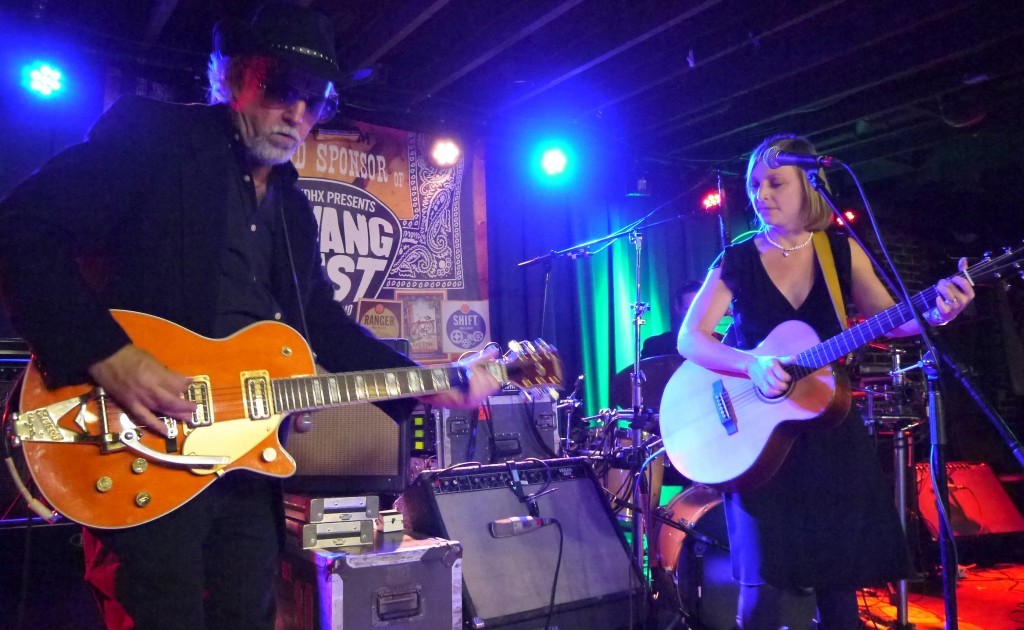 The Idaho-born and formerly Boston-based Jewell was the classiest act of the night, from her voice – all torch, sass and nuance – to her simple black dress with pearl choker. Fronting her longtime band of Miller, Johnny Sciascia on upright bass and Jason Beek on drums, Jewell charmed her audience with a set of originals and covers rooted in American roots music that ran from country torch to rockabilly twang to old-time blues.
Jewell also was entertaining in her between-song chatter, such as when she put a harmonica holder around her neck for the song "Santa Fe":
"I love an audience where the harmonica gets a reaction. … I may not know what I'm doing on the harmonica, but I know I'm in good company."
"Santa Fe," she said, is about New Mexico, to where she moved from Idaho "when I was 18. I used to say it was the farthest east I'd ever been."
Jewell opened her second Twangfest appearance with the rockabilly original "Queen of the Minor Key," the title track from her most recent CD and featuring the first of many inspired solos from Miller. Other notable originals included the rock- and swing-infused "Heartache Boulevard," the jazzy "High Shelf Booze" and "Bang Bang Bang," a rave-up about a shotgun-toting Cupid ("He's a psychopath," she said).
Her choice of covers was inspiring, from the Stonewall Jackson ballad "Why I'm Walkin' " to her hero Loretta Lynn's double entendre-laden "You Wanna Give Me a Lift."
But some of the best moments reached back into American musical history, to the smokey blues of Billie Holliday's "Fine and Mellow" and the power of Bessie Smith's "If You Catch Me Stealing."
Jewell made a lot of new fans on this night.
Opening the show was St. Louis' Half Knots, fronted by former Wagon leader and current Colonel Ford drummer Danny Kathriner and featuring Chris Grabau (Magnolia Summer) on lead guitar, Gary Baumstark on mandolin, and Dave Anderson filling in on pedal steel. Half Knots' 10-song set was dominated by mellow, country-colored ballads and was well-received.
PHOTOS by Barry Gilbert
TOP: Asleep at the Wheel singers Ray Benson, Jason Roberts and Elizabeth McQueen
Jerry Miller and Eilen Jewell 
Cherokee Maiden
Miles of Texas
Route 66
Don't Fence Me In
I'm an Old Cowhand From the Rio Grande
Truckin' Man (Dale Watson)
Blues Stay Away From Me
It's a Good Day
Ida Redemption
Bob Wills Is Still the King (Waylon Jennings)
San Antonio Rose
Faded Love
Big Balls in Cowtown
St. Louis Blues
Beat Me Daddy, Eight to the Bar
Hesitation Blues
Ain't Nobody Home But Me
Sitting on Top of the World
Choo Choo Ch'Boogie
Hot Rod Lincoln
House of Blue Lights
ENCORE
Happy Trails
Texas Playboys Theme
EILEN JEWELL set list:
Queen of the Minor Key
Where They Never Say Your Name
Sea of Tears
Reckless
Heartache Boulevard
High Shelf Boogie
Santa Fe
You Wanna Give Me a Lift (Loretta Lynn)
Bang Bang Bang
Why I'm Walkin' (Stonewall Jackson)
Warning Signs
Final Hour
Fine and Mellow (Billie Holliday)
Dusty Boxcar Wall (Eric Anderson)
If You Catch Me Stealing (Bessie Smith)
This post was originally created for my blog, The Roots Cellar.
---