Aoife O'Donovan's Crooked Road to Standing Alone
Posted On January 19, 2016
---
Aoife O'Donovan is sitting in a coffee shop in Brooklyn's South Slope neighborhood as the last shreds of sunlight begin to shift from view in the cafe's front windows. It's an appropriate scene, considering her new album, out this week, is titled In the Magic Hour (out Jan. 22 on Yep Roc). Besides, O'Donovan's career has been all about change and shifting light – perhaps the biggest shift being her emergence as a solo artist. Crooked Still is a major early highlight of the singer-songwriter's musical résumé, but even further back, during her time with jazz-bluegrass fusion band the Wayfaring Strangers, she was already receiving fervent suggestions that she become a solo artist, and was meeting those with marked enthusiasm.
"I remember doing a project with the Wayfaring Strangers," she says. "It was on Rounder Records and all the people from Rounder were like, 'You should make a solo album! You should make a solo album!', and I was like, 'Yeah! I want to be a solo artist and be the next Alison Krauss!'" Fate, however, stacked O'Donovan's career deck in a different order, which was, as it turns out, for the best.
"What ended up happening, though, was Crooked Still," she adds. "I'm really glad it happened in that way because it was amazing to have a band be sort of my first thing that I did in the music world. There's something amazing about starting out in the music business as a group of people who have everything equally invested. You share the loss, you share the joys. When you have a great show, it's like, 'Yeah! We had a great show!' When you have a shitty show, it's like, 'Damn, we had a bad show but, it's okay because we're all in it together!' I wouldn't do anything differently."
It helped that Crooked Still's four founding members – Corey DiMario (bass), Greg Liszt (banjo), Rushad Eggleston (cello), and O'Donovan (guitar) – were able to empathize with one another, each studying music around the greater Boston area. Even adjusting to the band's 2008 lineup change – they lost Eggleston and added fiddler Brittany Haas and cellist Tristan Clarridge – didn't detour Crooked Still's "one for all" spirit. This, says O'Donovan, helped frame how she would interact with music after Crooked Still's final release, Friends of Fall, in 2011.
"Your bandmates, they end up just being your best friends, if you're lucky," says O'Donovan, whose first name is pronounced "EE-fah." While she's grateful for that experience, she adds, "I think that really helped me as I decided to do the solo thing. It's hopefully helped me to … not have false expectations of what the music business is, or what I'm going to achieve, [so I can] just really be doing it because I want to make music and have a good time."
Bandmate Boomerangs
O'Donovan first turned to music as an outlet for both enjoyment and emotional fulfillment through her family, a strong connection to their Irish culture, and their ongoing family traditions – of which music was a constant and vibrantly cherished part. Thus, Crooked Still might not have been the initial reason O'Donovan stepped toward the more personal aspects of making music, but its cumulative body of experiences in the "professional music business" helped to rekindle that part of her artistic process once the band was in the background and she had the chance to reflect.
The announcement of a band going on hiatus – or worse, breaking up altogether – commonly leaves a void, as its members' priorities shift. The new ventures of some of O'Donovan's friends and former bandmates didn't stray far out of her orbit though. They've had a few reunions under new musical dynamics, even as they've wandered outside Crooked Still's airspace.
Eggleston, who parted ways with Crooked Still early on, had crafted music revolving around an imaginary world known as "Snee." To sing and play about that world, he brought in O'Donovan and three other musicians to make up the Wild Band of Snee. Their music and lyrics, all composed by Eggleston, were created with children in mind, as evidenced by the rhyming summary of the group's sound: "This is wild, beautiful, untamed music from the land of Snee. Mystical, whimsical, curious, and sneaky." It was also clear from in the music's bouncing rhythms, unconventional parts (background yelling!), and the use of adjectives Dr. Seuss or Maurice Sendak would surely appreciate. Those who search the Wild Band of Snee's releases will discover track lists that are as linguistically motley as their instrumental arrangements – song titles include "Snoblert," "Flezzerbox," and "Snorvio Plagramate." Nevertheless, O'Donovan's participation allowed her to use her signature vocals and work with Eggleston again – albeit with a wholly imaginative concept – perhaps unknowingly helping to feed improvisational impulses she would later explore.
Sometymes Why Not?
O'Donovan's next highly acclaimed project, folk-noir trio Sometymes Why, followed, and illuminating a few steps back in the story of the band's formation highlights the genuine charm the trio exuded.
They had already solidified when the Wild Band of Snee was weaving its whimsical tales, but Snee isn't the former's lynchpin. Rather, a different former bandmate and friend returned to the picture.
Over the phone from her Hudson Valley home, former Wayfaring Stranger Ruthy Ungar – one-third of Sometymes Why, also known for her work with the Mammals and the Mike + Ruthy Band – fondly recalls the first time she met O'Donovan more than a decade earlier.
"The first time I ever met Aoife was at the Philly Folk Festival in 2001," Ungar says. "I was there singing with the Wayfaring Strangers, and Matt [Glaser], who was the band leader, said, 'Hey, this great singer is going to sing with you on 'When the Golden Leaves Begin to Fall' and her name is Aoife and you'll like her a lot.' And I [said], 'This is like, the main stage at the Philly Folk Festival and I'm a little nervous, I've never met this person in my life, and we're going to sing a duet?'"
Professional musicians can typically handle unplanned changes, but capability doesn't always equate personal alignment. Nonetheless, beyond the clearly harmonious combination Ungar and O'Donovan made in that first collaboration, Sometymes Why truly flowed through their friendship.
"From the first moment of singing … backstage when [Aoife and I] were practicing it, immediately we both were smiling and totally relieved that this was going to be really easy," Ungar recalls. "When you find someone who it's that fun to blend with, you always seek out new ways to get to do it. So, that's where we first were connected."
Connection and camaraderie didn't just permeate that moment at the Philly Folk Festival, but also served as the underlying energy to propel Sometymes Why's songwriting forward. Completing the trio with Ungar and O'Donovan was singer-songwriter Kristin Andreassen (Uncle Earl). The three were out one night in Brooklyn and found themselves casually singing melodies and harmonies at an after-party. That after-party ended with everyone hoping to make that lightning strike many more times.

"When you find someone who it's that fun to blend with, you always seek out new ways to get to do it." - Ruthy Ungar

 
"You get to know people you want to keep working with and little offshoots of things you can do together, and that's how new bands are born," Ungar says. "The after-party became where Aoife, Kristin, and I might sing some songs together that were a little more personal or kind of moody songs, and then Sometymes Why was born out of that."
The trio described themselves as "mov[ing] past the 'stringband' label entirely" – a tagline that was fitting, but also just the tip of the iceberg. A big component of growth for O'Donovan within Sometymes Why was the opportunity for her to write her own material in a more stripped-down way. The band's unified motivation and emphasis on each woman's experiences and emotions deepened the character of its songwriting, rather than satisfying a predetermined format.
"That's what was cool about Sometymes Why, was that [Aoife, Kristin, and I] had all this music that didn't have a home in our respective stringbands," Ungar explains. "But once we got together, suddenly those songs had a place. They had friends and they had a context."
Such organic infrastructure shaped that trio's personality and accomplishments. There is no better showing of this than during another impromptu house jam that led to their touring with Punch Brothers, Ungar says.
"It was at [Chris] Thile's first New York City apartment … we were staying up super late playing songs with each other. Picture this: West Village walk-up, candles and whiskey." She elaborates on just how meaningful that evening was, even recounted 10 years later. "It was a very charged musical bonding of people who didn't make a regular thing out of it or anything, but once was vivid enough to stick with us all this time."
The serendipitous get-together led to long-term relationships and support circles that provided additional artistic perspective in O'Donovan's life, inspiring her work and the work her colleagues continue to do. And it wasn't the last time her friend Chris Thile would have some role in expanding her musical horizons.
Spontaneous Music
Recapturing the exact magic from that night in Thile's apartment might have been near impossible, but they kept the core spirit of emotional interconnectedness as their bands progressed. This spirit was, and is, always best seen in how Ungar, O'Donovan, and Andreassen each alternated between being collaborators and a cheering audience members. "We all learn from each other when we go to each other's shows and festivals," Ungar says. "We all pick up little tricks."
In that same way though, all the collective progress, change, and opportunity was a catalyst for the gradual pulling back of Sometymes Why. "I think, by their nature, bands kind of expand or dissipate," Ungar continues. "I'm sad that Sometymes Why has dissipated but it's just 'cause we're all really too busy. … We almost did a gig last year, and I was like, 'I would rather just get together and talk for five hours than have to rehearse and play a show.'"
Not long after the trio ran its course, O'Donovan found herself tracking with Thile, Edgar Meyer, Yo-Yo Ma, and Stuart Duncan for a record titled The Goat Rodeo Sessions.
By the time O'Donovan jumped in, The Goat Rodeo Sessions was already uniting a mish-mash of versatile players, each of whom was recognized for making atypical music. Nonetheless, the music they made together wasn't totally absent roots music qualities. Where O'Donovan says the "Rodeo" threw her for an unexpected loop was in the chosen approach for recording.
"It was just such a musically insane experience, to get in a car and drive up to the Berkshires to record ['Here and Heaven,' and 'No One But You'] with those guys," O'Donovan says. "[I] assum[ed] I'd be in a booth, you know. If I made a mistake it'd be fine. I'd be in a booth and we could just edit it out and, no. We were all in a circle, with microphones everywhere, doing it live and tracking."
Spontaneous music might not be new for someone who frequently found herself forming bands from ad hoc group singing among friends, but being among several "luminaries of the musical world" – as O'Donovan describes her Rodeo collaborators – made the session feel intimidating.

"You just have to expect a lot [out of] people and I think they'll, for the most part, deliver." - Aoife O'Donovan
"Just, the fact that somebody else could have that confidence in my ability – well, my first impression was shock and sort of disbelief and fear. But I think doing it and hearing … the reaction from people who had heard that record, and doing a press tour, and getting to just really be on an equal playing field with those guys was incredible – just an unbelievable experience. I think that experience has definitely…followed me as I've done other collaborations." She continues: "You just have to expect a lot [out of] people and I think they'll, for the most part, deliver."
Once she figured out that way of challenging herself – and continuing her streak of performing outside the exact confines of roots music – less than a year later, O'Donovan sang in a performance arranged by bassist Greg Garrison that paired her with jazz trumpeter Dave Douglas. She made such an impression that Douglas asked her to sing on his 2012 record, Be Still. To some, the inclusion of a jazz outsider might have raised eyebrows. But the duo's work resulted in a fusion that was both a meeting of minds and a new entity all its own.
"I think one of the things that Dave was probably drawn to was the simple singing and my approach to singing, [which] is very maybe unlike a jazz singer? And so that record is all him. It's all basically folk songs that I'm singing, but maybe it was a comfortable setting because I play with jazz musicians a lot and I wasn't terrified of the crazy changes or time signatures."
As O'Donovan continues, she details the increased interest emerging within certain circles of artists who are interested in collegiate musical study. She reflects on how both she and her peers recognize this trend as it's happening, and they're learning new things along the way.
"I think one of the things that's cool about the modern crop of folk musicians is that a lot of people do have this music school background. Especially people even younger than me, obviously – maybe I was the beginning of that – but Sarah Jarosz, Sierra Hull, all these sort of younger musicians who went to Berklee and [New England Conservatory]."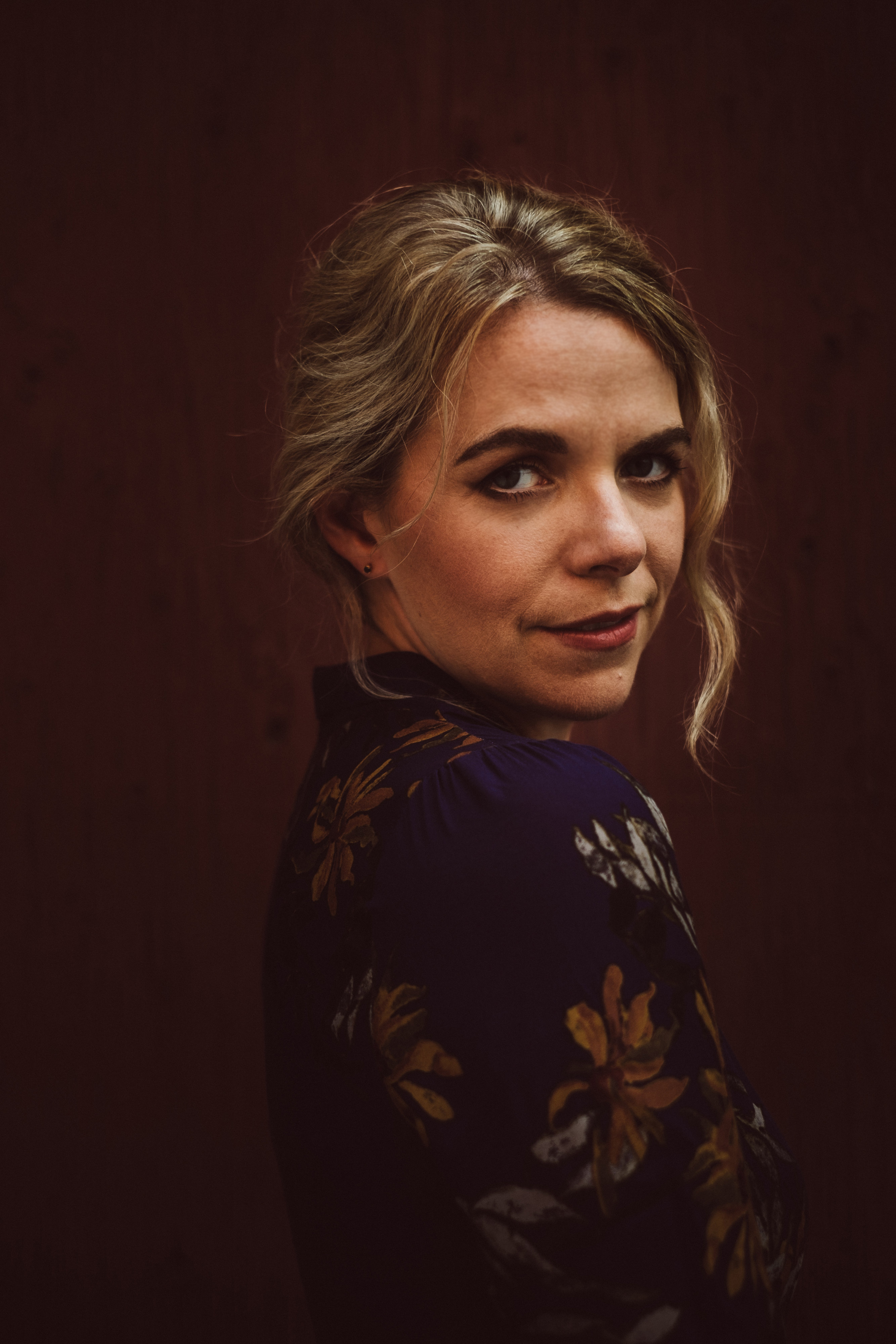 Digging further into the increasing crossover between folk and jazz, she adds, "One summer, I taught at the jazz workshop in Canada that Dave Douglas ran, called the Banff Centre's Jazz Workshop, and all the jazzers, they just wanted to learn folk songs. They wanted to sing simple melodies and practice harmonies. Then you go to a folk camp and everyone is like, 'Hey, well let's practice singing weird harmonies, in weird time signatures!' So, it's like, the lines are coming down and I think hopefully, music is just going to get richer and then people will just be into music, as opposed to one kind of music."
Going Solo
With those itinerant projects behind her, a dozen years after first becoming excited about writing a solo record, O'Donovan's buried pursuit finally found its way to the surface with her solo debut, Fossils (Yep Roc, 2013). Having looked at music from so many vantage points up to that time, the album's sound was like a happily anxious collage of O'Donovan's past and present.
"I had a bunch of the songs kind of kicking around for a while," she says, "and I wrote a couple new ones for the record, but it was mostly like, 'Gotta just get it done! I'm gonna make my solo album!' I had this goal that I wanted to do it before I turned 30 and it was all pretty arbitrary."
Threads of familiar elements – open chord progressions, the way she approaches melody and harmony – float freely on Fossils, retaining fundamental characteristics of O'Donovan's previous work. However, her choice of the word "arbitrary" is understandable, given the album's oscillation between rhythms, vocal style and delivery, and traditional instrumental arrangements.
When it was time to make In the Magic Hour, meanwhile, her approach was slightly different. "I had maybe five or six songs when I was sending demos to [producer] Tucker [Martine]," she explains, "and I really did dig deep to find the rest of the songs in me and bring them to life. [H]ow they're all tied together, I think, was something I was very conscious of."
Getting specific, she continues. "'Stanley Park' was the first song I wrote for the album and it's sort of a coincidence that it came first [in the track list]. [It was] kind of like a stream of consciousness type of song. [I was wondering,] 'Is this even done? I just wrote five verses or six verses. Is this even a song?' And then I realized it actually was, because it said everything it needed to say. I think that that's something I'm learning about my own songwriting and about songs in general, [and] songs that I like. Certainly, people will disagree with me, but if you say everything you want to say in a song, then it's done. I'm glad I didn't put a chorus in 'Stanley Park,' because I don't think it would have served it."
"Stanley Park" might lack a classic chorus but, as O'Donovan explains, she isn't one to shy away from them entirely, despite her reputation for doing so. "Somebody just said that, 'Oh it seems like you're not a fan of big choruses.' I feel like I do write choruses all the time but – I'm not going for a big chorus vibe. That's just not my vibe, I guess. I don't know, maybe I should try."
One of the singles released ahead of Magic Hour's debut, "The King of All Birds," does include a formal chorus. Still, other elements – thematic imagery, clever word play, and the way her lyric lines break down (I'm a fighter bird / I'm a harrier hawk, I'm an owl now / a lonely owl / who who where what why when) – show O'Donovan retaining her personal style, even if she doesn't utilize every type of transition typically found in contemporary music. The ways in which she applies variation and texture on Magic Hour – instrumentally, lyrically, rhythmically – shifts throughout the album, and this is what lets the inclusion of things like chorus-less songs work well .
Whether you're listening to O'Donovan talk about it, or listening to the music itself, it's clear that In the Magic Hour is a thoughtfully assembled and extremely intimate compendium – a window into her life and heart. Though she searched intensely within to make this album whole, it upholds a graceful restraint.
"I think there was a little more thought that went into the concept of the collection of songs and also, the whole thing of how it's packaged, how it's presented, how the songs are put together, the cover of the album – the whole thing is exactly a snapshot. It's exactly a moment in time."
She elaborates further, honing in on the familial ties that bring the pieces of In the Magic Hour together. "A lot of these songs are inspired by my grandfather's death and how that feeds back into my own life and my own nostalgia for my childhood, [and] a longing for a simpler time. There's this theme of loneliness and the theme of moving on, and of acceptance, and all these things. … I hope people listen to it in one go."
While In the Magic Hour marks the newest benchmark in O'Donovan's recording career, she's keen on nurturing many endeavors simultaneously. She, Sarah Jarosz, and Sara Watkins have cultivated their own brand of magic this past year in a trio they're calling I'm With Her. The undertaking has generated two recorded tracks and a critically acclaimed tour. Shifting between solo and group dynamics again, O'Donovan has found it keeps fewer songs "homeless," as Ungar would say. Moreover, sharing mics with Watkins and Jarosz has impressed and encouraged her to continue refining her game for anything that may come next.
"I am always somebody that likes to have many different projects going," she says, "because I just feel it serves the art so much better when you have different outlets for different things that you're doing. Every time I'm with Sarah [Jarosz] and Sara [Watkins], I'm just kind of blown away by how good they are. I'll just be on stage with them and I'll be like, 'Holy shit, these guys are so good! … It's this whole [mentality of], I can do better!'"
---