Americana Music Festival and Conference – Nashville, TN
Posted On September 27, 2016
---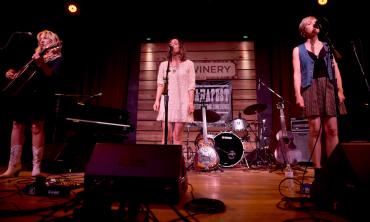 Americana Fest 2016 has ended. Once again, it was six nights and five days when an international community gathered around its common love and respect for a kind of music that is raw, honest, earnestly human, universal. We could break it up into little bits and call it rock and roll, country, folk, rockabilly, bluegrass, old-time, maybe even jazz and blues. But taken together, it presented a style of music that is truly the voice of America, in all its chaotic, diverse, glorious depth.
One person cannot possibly have seen everything or witnessed every collaboration, every instance when friends were brought to the stage to offer harmony, when heroes sat in with newcomers and shifted the experience for everyone present. Our No Depression community had several people in attendance, and we're likely to see reports from each of them in the coming days, so I'll stick to what the highlights were for me, personally.
In a small upstairs studio at Compass Records, in the room where the outlaw country sound took shape, San Francisco-based duo Quiles & Cloud caught my attention. I couldn't find a video from this specific performance, but this one will do.
There's an impulse in this roots music world to liken any duo that makes good music to Gillian Welch and David Rawlings, and I certainly heard that comparison in relation to Quiles and Cloud, but that's not what they're doing. This duo is not branching from the roots of old-time folk music. What they're playing is more akin to the Boston-area singer-songwriter scene (Maria Quiles' voice could pass for that of Kris Delmhorst, with its balance of grit and light). Nor is Rory Cloud exactly the artfully aggressive deliverer of guitar runs that Rawlings is. Where Rawlings appears to shake the music out of his instrument, Cloud simply opens a little gate and let the notes pour out. There's a delicate power to what both duos do, sure, but Quiles & Cloud are an entity unto themselves and don't fit neatly into the Welch and Rawlings column.
I was aware, watching them pace themselves through a short set during AMA, that this is a pairing with remarkable potential. They have only just begun, and were an easy early highlight of the week for me.
Another group that made its mark was Applewood Road — a supergroup of sorts, comprised of Amy Speace, Emily Barker, and Amber Rubarth. They say they met at a coffee shop and wound up going back to someone's house to write songs. What they landed on was the song "Applewood Road," from which they took their name. They also landed on a balance of harmony and grace that is absolutely stunning. I just wanted to watch as much as I could of it, to try to figure out how they make that sound happen — that soft precariousness that leads every song forward, like tiptoeing through a dark wood. Like walking through a morning fog to the bright, clear day. Somehow it is at once warm and crisp.
Rodney Crowell, whom I've seen perform a number of times and who has been in this business for decades, came out at the Cannery on Thursday night with one of the most electrifying performances of the week. His mastery of the country shuffle — and his enveloping stage personality — drove the performance, which was as close to rock and roll as we got all week. One of the magic things about live music festival is what happens when you think you know what's going to happen. Crowell blew the lid off the place, and it was good.
Ruby Boots did the same at the 5 Spot on Saturday afternoon, for an Australian showcase. Even though frontwoman Bex Chilcott has recently moved to Nashville, she's yet to go native. Her songs were unchained and running wild, with enough solid hooks to hook you hard. There was no formula or calculation about them, and Chilcott delivered each with a certain artful abandon; let's hope she keeps it that way.
Friday night at City Winery, the show was remarkable from start to stop, with Applewood Road kicking it off, followed by the fun and rocking Motel Mirrors. Next was a stirring and emotionally arresting set from Canada's Rose Cousins, who played all new material from a forthcoming disc that Joe Henry produced. Cousins' talent for punctuating her deep and heavy, beautiful sad songs with smart, exacting wit between them, makes for a memorable show each time. But it was the songs that were the focus this night, and that album is sure to be a doozy. She closed her set the same way she did last year at Folk Alliance, by welcoming a slew of friends to sing the song "Grace" with her. Among them: Sara Watkins, Robby Hecht, Mira Mulholland, Kristin Andreassen, and others. They could've moved a little closer to the mic, but the harmonies were beautiful and well-timed anyway, with a message about the value of grace, which we could all use a little more of these days.
After Cousins, Watkins delivered a killer set of her own, with mostly songs from her infectious new album, Young in All the Wrong Ways, which was easily one of the best albums of this summer. Watkins has been a more careful solo artist than her Nickel Creek bandmates, and the songs she's created as a result have — each one — given us something new and different from her. She has, across her three solo albums, become a remarkable shape-shifter of a solo artist, capable of placing a jig of a fiddle tune (though there are, remarkably, none on this record) next to an indie rock tune like "Move Me," next to a radio friendly pop song like "Say So," next to a delicate pinprick of a ballad like "The Love That Got Away." And she does all this without making the audience feel any sense of stylistic whiplash. Her City Winery set was an easy, obvious highlight.
Also worth mentioning are the Indigo Girls — their first time playing AMA as a duo. They delivered an entire set backed by their longtime fiddler Lyris Hung as well as Alison Brown on banjo and Sierra Hull on mandolin. Their set was a grab bag of tunes from their 25+ years of recordings, and the crowd — which was shockingly small, maybe half the room at the Cannery — ate it up. I did, however, watch a group of about a half-dozen men leave after Amy Ray called out the KKK in her rousing racial justice anthem "Rise of the Black Messiah." In a week when riots were happening a few hours away in Charlotte, North Carolina, after two more black men were killed by police officers, Ray's moving piece was one of the very few moments when I saw any of the artists on the bill call out what's happening in the world around us. Of course, the Indigo Girls have made their career by shedding light in the dark spaces — whether those dark spaces are full of broken hearts or racism or the ways indigenous communities struggle or the loneliness of mortality.
Indeed, all those things make up our universal struggle, the things which we all have in common as humans. And those are the things which music can and does touch, in ways that conversation and debate cannot. There's an opportunity every time an artist steps on a stage in front of a room, with a microphone, to give us something we need. Something we cannot get any other way. Something that will defy what the rest of the world is telling us to fear, to be angry about, to embrace. The Americana Music Festival is full of artists who take that responsibility seriously, whether they call it out by name or not.
I was pleased to see the Indigo Girls and Billy Bragg, Joe Henry, and a small handful of others spend some time at their microphones admitting that we are all troubled by what's going on around us. I was just as pleased to see artists like Cousins and Watkins and Applewood Road, who have chosen to defy the outside world with unbridled truth and beauty. Until next year, Americana Fest!
---