Americana Lost and Found: From Polkas to Tejano Roots
Posted On November 9, 2018
---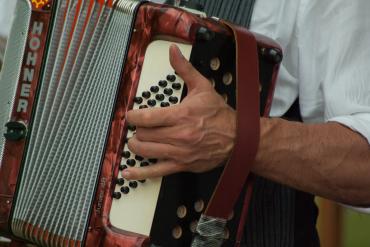 Back in the fifties when I was just a little squirt, most Saturday nights were spent at my grandparents' house, where we ate boiled chicken, played endless card games, and watched television on a small Dumont black and white. It was always the same routine: Lawrence Welk, Jackie Gleason,Gunsmoke, a bowl of cherry Jell-O and then off to bed. Not sure how my older sister escaped these tortuous nights, but while she was out at sock hops dancing with her friends and cruising the parking lot at Bob's Big Boy on the boulevard, part of my musical DNA was being formed by the sound of Myron Floren's accordion playing, an Amercan-ized, white-bread version of polka music.
Fast forward to the mid-'70s, and I was working as a sales rep for an indie music distributor with a territory that took me deep into the small steel and mining towns of Pennsylvania, with an enormous catalog of multigenre titles, including all of Floren's albums. For almost a half-dozen years I drove through the mountains on the turnpike and country roads with my VW Super Beetle equipped with a Craig eight-track player and an AM radio. Long hours were spent in that car, smoke-filled from Winstons and weed, listening to my own psychedelia mixtapes while alternating through the small local radio stations to get weather updates, check out the farm reports, and listen to polka music. Half-step or waltz, fast or slow, instrumental or with vocals, I loved it. And although this song from Tom Russell sure ain't a polka, it captures that time period and geography spot on.
One of the people I was listening to back then was Augie Meyers, the childhood friend and longtime collaborator of Doug Sahm. It was his organ playing on the Sir Douglas Quintet albums that added the Norteño style that cut through anything else you were hearing on the radio at the time. Sometime after they released Mendocino, I picked up a copy of Augie's Western Head Music Co. and played it to death. Pretty sure I still have it somewhere in the vinyl stacks, and I recently found this song posted on YouTube. It was my connect-the-dot to the polkas from the Pocono Mountains of Pennsylvania to the border music of Southern Texas.
Chris Strachwitz, the founder of Arhoolie Records — now owned and administered by Smithsonian Folkways — has been a longtime fan and collector of Tejano and conjunto music, issuing a great series of albums culled from his 1990 purchase of Ideal Records under the banner of Tejano Roots. He's also filmed two documentaries and written extensively about this music, which is posted on a page from the University of Texas at Austin site. Below he explains how the music of Mexico was influenced by other countries and cultures.
"The musical traditions of the Tejanos of South Texas and Norteños of Northern Mexico have been influenced not only by the mother country, Mexico, but also by their Anglo-American, African-American and immigrant neighbors like the Czechs, Bohemians, and Moravians as well as the Germans and Italians. Industry, especially brewing, in Monterrey, Nuevo Leon, was developed in part by German immigrants; and the distributors of German-made accordions aggressively marketed the loud, sturdy little 'boom boxes' as far back as the late 1800s. Norteño/Conjunto accordion pioneer Narciso Martínez learned many tunes from German and Czech brass bands."
American-born or -based performers who've since popularized and included the style into rock and folk music include Sam the Sham and The Pharaohs, Ry Cooder, Calexico, Los Lobos, Latin Playboys, The Mavericks, The Mars Volta, and Los Super Seven. In 1971 Doug Sahm was signed to Atlantic Records as a solo act, and Flaco Jimenez, Freddy Fender, and Augie Meyers were often in the studio backing him up. In 1990 the quartet released their debut album under the name Texas Tornados, and it was recorded in both English and Spanish. Sahm died in 1999, and Fender in 2006. Doug's son Shawn has kept the music alive, working with Meyers and Jiménez as well as Tornado original musicians Louie Ortega, Speedy Sparks, and Ernie Durawa, and releasing Está Bueno! in 2010. Shawn is still out there performing regularly.
This is a link to Smithsonian Folkways' catalog of Latin recordings, most of which were acquired by the Arhoolie purchase. You can buy, download, and stream most, if not all. The Tejano Rootsseries is comprised of several collections focusing on specific topics such as women, accordions, orquestas, San Antonio, and artists including Jimenez, Tony De La Rosa, Conjunto Bernal, and Lydia Mendoza.
As in all forms and subgenres of American roots music, this is simply another example of how our country is culturally richer because of our diverse heritage. Whether through the willful immigration from countries spanning the globe or the horrific forced slavery from Africa, people have found ways to connect and share their collective hopes, dreams, and talent, throwing it into the melting pot. And as Woody Guthrie wrote, "In wheat fields waving and dust clouds rolling, the voice come chanting as the fog was lifting … this land was made for you and me."
Many of my past columns, articles, and essays can be accessed at my own site, therealeasyed.com. I also aggregate news and videos on both Flipboardand Facebook as The Real Easy Ed: Americana and Roots Music Daily. My Twitter handle is @therealeasyed and my email address is easyed@therealeasyed.com.
---