Americana Boogie: Rodney Crowell, Bobby Bare Jr, Moot Davis, Secret Sisters
---
BOBBY BARE JR.
Undefeated (Bloodshot)
Bobby Bare, Jr. could've phoned in a career. He could've exploited the fact that he s the son of Country Music Hall of Famer Bobby Bare, instead, he blazed a path of unique songwriting craftsmanship. Undefeated is ten songs of reality checks, clever wordplay, and daring arrangements, the aural companion to that buddy who pulls up a bar stool next to yours to help soak away your sorrows. Undefeated is an album of distinct balance, but with raw and varied textures.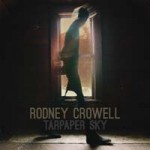 RODNEY CROWELL
Tarpaper Sky (New West)
Crowell has pushed the boundaries of country, folk and roots music since long before the term Americana was coined as a genre, making a name for himself and gaining respect as both a songwriter and as an artist. Celebrating 40 years of making music, Crowell has created an album that harkens back to some of his most revered and loved works. Tarpaper Sky would sit comfortably on the shelf right between the chart-topping fan favorite Diamonds and Dirt(1988) and Life Is Messy (1992). This album marks a reunion of the creative partnership of Crowell and musical accomplice Steuart Smith, who was an integral part of his overall sound during the late 80s.
Also new this week…
DEL BARBER – Prairieography (True North)
RAY BONNEVILLE – Easy Gone (Red House)
MOOT DAVIS – Goin' In Hot (Crow Town)
EMMYLOU HARRIS AND THE HOT BAND – Cowboy Angels (All Access)
PETER ROWAN – Peter Rowan's Twang an' Groove Vol. 1 (There)
THE SECRET SISTERS – Put Your Needle Down(Universal Republic)
HANS THEESSINK – Songs From The Southland (Blue Groove)
CHUCK E. WEISS – Red Beans and Weiss (-Anti)
Above are all of the Americana and roots-type music releases for the week of April 15th, 2014 from the Americana Boogie blog. Click the artist or album links to find out more. The artist's names link to their websites and the CD title links go either " target="_blank">Amazon or CD Baby for easy ordering.
Coming out soon… BLACK PRAIRIE, KEB' MO', JUSTIN RUTLEDGE, THE MAGNOLIA SISTERS, THE SELDOM SCENE, JEFFREY HALFORD & THE HEALERS, THE OLD 97'S, BRIGITTE DEMEYER, BRYAN SUTTON, THE HOWLIN' BROTHERS, TOMMY MALONE, ZOE MUTH … more new releases
Here's a link to this week's Americana Music Association http://www.americanaradio.org/" target="_blank">Americana Airplay Chart
---