Americana Boogie new releases for the week of Sept. 3rd… Richard Buckner, Reckless Kelly, Neko Case, Elephant Revival, Okkervil River & more…
Posted On September 3, 2013
---
RICHARD BUCKNER
Surrounded (Merge)
In the time since Our Blood was released and after a few long tours, Richard Buckner attempted to work on writing short stories but found himself drawn back into the music room. The evidence of his time in the writer's chair is clear in the dense, lovely prose of Surrounded. The album's liner notes include text-embedded lyrics, a technique Buckner employed on his earlier albums Since and Impasse, but this marks the first time he used the songs' extended story to construct the album's overall view and track sequence.
Various Artists
Sandra Boynton's Frog Trouble (Warner Bros.)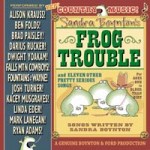 Bestselling children's author, songwriter and music producer, Sandra Boynton, presents her first Country album, Frog Trouble. The album features original songs by Boynton, arranged by Michael Ford. Each artist was hand-picked by Boynton for this retro sounding album, including Dwight Yoakam, Fountains of Wayne, Mark Lanegan, Kacey Musgraves, Ryan Adams, Ben Folds, Brad Paisley, Alison Krauss and others.
Also new this week…
NEKO CASE – The Worse Things Get, The Harder I Fight, The Harder I Fight, The More I Love You (Anti-)
ELEPHANT REVIVAL – These Changing Skies (Itz Evolving)
THE GRAHAMS – Riverman's Daughter (Cen)
NORTH MISSISSIPPI ALLSTARS – World Boogie Is Coming (Songs of the South)
OKKERVIL RIVER – The Silver Gymnasium (ATO)
OVER THE RHINE – Meet Me At The Edge Of The World (Great Speckled Dog)
RECKLESS KELLY – Long Night Moon (No Big Deal)
Coming out soon… PETER COOPER, RICK SHEA, DRIVE-BY TRUCKERS, STEEP CANYON RANGERS, THE WHITE BUFFALO, GUY DAVIS, LORRAINE JORDAN & CAROLINA ROAD, SHERYL CROW, RY COODER & CORRIDOS FAMOSOS, TONY JOE WHITE, BAND OF HEATHENS, AUDREY AULD, DEL McCOURY BAND, TIM O'BRIEN & DARRELL SCOTT, ZACHARY LUCKY, THE SADIES, ELVIS COSTELLO & THE ROOTS, PATTY LARKIN, DAVID BROMBERG … more new releases
. Here's a link to this week's Americana Music Association http://www.americanaradio.org/" target="_blank">Americana Airplay Chart
Bill Frater
Freight Train Boogie
---