Americana Boogie new releases for the week of Oct. 29th… Nick Lowe, Jim Lauderdale , The Devil Makes 3, Miss Tess, SCOTS…
Posted On October 29, 2013
---
THE DEVIL MAKES THREE
I'm A Stranger Here (New West)
TDM3's travels & travails serve as inspiration for their 4th album, I'm a Stranger Here, produced by Buddy Miller & recorded at Dan (Black Keys) Auerbach's Easy Eye Sound Studio in Nashville. With upright bassist Lucia Turino & guitarist Cooper McBean, guitarist/singer Pete Bernhard crafted a dozen tunes, part road songs, part heartbreak songs & part barnburners. While most bands are propelled from behind by a drummer, TDM3 builds exuberant rhythms from the inside out, wrapping finger-picked strings & upsurging harmonies around chugging acoustic guitar & bass. 
NICK LOWE
Quality Street: A Seasonal Selection For All The Family (Yep Roc)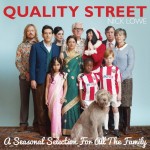 A new Nick Lowe album. . . holiday-themed for your convenience. Quality Street features three new Nick Lowe originals including one co-written with Ry Cooder. Also featured are a new song by Ron Sexsmith written expressly for Nick, plus other holiday favorites by Roger Miller, Roy Wood, and even a few traditional chestnuts– all performed in in Nick's singular style. Nick describes this album as, "a sleigh bell-free zone." Anyone who likes their Christmas soundtracks with plenty of heart and humor, and a sprinkle of understated charm, will enjoy Quality Street for the newly minted classic that it is. You might say it's the kind of record that gives vulgar, tawdry commercialism a good name.
Also new this week…
MISS TESS & THE TALKBACKS – The Love I Have for You  (Signature Sounds)
JIM LAUDERDALE – Old Time Angels  (Sky Crunch)
LOS LOBOS – Disconnected In New York City (429)
LOVES IT – All We Are (self released)
SOUTHERN CULTURE ON THE SKIDS – Dig This (Kudzu)
Coming out soon… LOVES IT, PAUL BURCH, BLUE RODEO, JESSE TERRY, GRACE & TONY … more new releases
. 
The best Americana and roots-type music releases for the week of October 29th, 2013 from the infamous Americana Boogie.
Here's a link to this week's Americana Music Association Americana Airplay Chart
Bill Frater
Freight Train Boogie
---