Americana Boogie new releases for the week of May 27th… Zoe Muth, Kelly Willis & Bruce Robison, Neil Young, John Fullbright, Amy LaVere & more…
---
JOHN FULLBRIGHT
Songs (Blue Dirt)
This is John Fullbright's follow-up to his Grammy-nominated debut, From The Ground Up. Songs has its moments of darkness, tracks born from pain and heartbreak, but for a craftsman like Fullbright, there are few greater joys than carving emotion into music, taking a stab at that lofty goal of immortality through song. It makes him and his fans "happy," and there's nothing bad about that.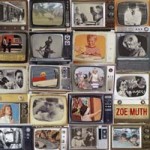 ZOE MUTH
World of Strangers (Signature Sounds)
"Many of these new songs had been in my head for a long time, and I needed a change of scenery and sound to let them find their way out," says Muth when asked about the writing on World of Strangers. On New Year's Day 2013, she uprooted herself from Seattle, and set out for Austin, Texas. She was soon introduced to producer and bassist George Reiff, who assembled a studio band of some of Austin's most talented musicians. World of Strangers is slow building and spacious, often dream-like and fearless in its demand of your time and attention. And while the album sometimes begs you to two-step and waltz, more often than not, what it wants is for you to turn up the volume, turn the lights down low and just listen.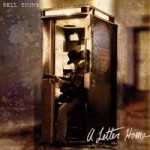 NEIL YOUNG
A Letter Home (Reprise)
This is an acoustic covers set recorded at Jack White's Nashville music shop on a Voice-O-Graph, a super-low-def 1940's contraption that looks like a phone booth and sounds a few steps removed from a rusty tin can and some twine. If it's meant as some kind of joke, here's the punch line: In its perverse way, A Letter Home is one of the most enjoyable records Young has made this century. The track list spans canonical folk songs from Bob Dylan, Gordon Lightfoot, Phil Ochs, Bert Jansch and even Bruce Springsteen. Young's bare renditions have an unrehearsed sincerity that's easy to imagine getting lost in a better studio. (from Rolling Stone)
Also new this week…
WILKO JOHNSON/ROGER DALTRY –Going Back Home(Hip-O)
AMY LAVERE – Runaway's Diary (Archer)
BETTYSOO – When We're Gone (self released)
GINA VILLALOBOS – Sola (self released)
KELLY WILLIS & BRUCE ROBISON – Our Year (Premium)
Above are all of the Americana and roots-type music releases for the week of May 27th, 2014 from Americana Boogie. Click the artist or album links to find out more. The artist's names link to their websites and the CD title links go either " target="_blank">Amazon  or CD Baby for easy ordering.
Coming out soon… DAVE ALVIN & PHIL ALVIN, JD McPHERSON, MARY GAUTHIER, THE FELICE BROTHERS, JOE HENRY, CLARENCE BUCARO, JONAH TOLCHIN, THE MASTERSONS, OLD CROW MEDICINE SHOW, THE DUHKS … more new releases
.
Here's a link to this week's Americana Music Association Americana Airplay Chart
Bill Frater
Freight Train Boogie
---