Americana Boogie new releases for the week of March 12th… Shooter Jennings, Cash Box Kings, Eric Clapton and a few more…
---
THE CASH BOX KINGS
Black Toppin' (Blind Pig)
Considered the Young Turks of the Chicago blues scene, The Cash Box Kings are dedicated to carrying on the spirit of the 1940's and 50's post-war Chicago blues sound as well as the Delta blues music of the 20's and 30's. But these illustrious torchbearers also add a bravado, energy and freshness to the mix that results in a distinctive musical experience. With a focus on the raw, stripped-down, ensemble playing that was the hallmark of the post-war sound, the band showcases the music of Chess Records and Sun Records while adding a healthy dose of original music that captures the essence of the Memphis and Chicago blues sounds of the 40's and 50's.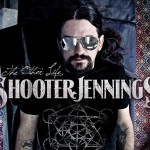 SHOOTER JENNINGS
The Other Life (Black Country One/Entertainment One)
Make no mistake about it, Shooter Jennings has never been one to allow expectations, boundaries, genre or ideals dictate the direction of his art.  After finishing work on The Other Life, he began planning an expansive film counterpart to the album. Shot across the USS, the film paints a story of isolation, temptation and rebirth through visual storytelling. As an album, The Other Life sees Shooter using all the colors of the pallets of previous recordings, and bringing them together to make his most diverse and interesting album to date. He enlists the help of friends and icons alike, Austin Texas madman Scott H. Biram, Patty Griffin and Jim Dandy preaches alongside Shooter in the Black Oak Arkansas lost gem "15 Million Light-Years Away."  It is with the closing "The Gunslinger" that we see a portrait of a man hell bent on making art his way no matter who may try and get in the way.
Also new this week…
ERIC CLAPTON – Old Sock (Bushbranch/Surfdog)
COMMANDER CODY & HIS MODERN PLANET AIRMEN – Live From The Island (Woodstock)
HEATHER MALONEY – Heather Maloney  (Signature Sounds)
SOUTHERN HOSPITALITY – Easy Livin' (Blind Pig)
Coming out soon… THE BLACK LILLIES,  PHOSPHORESCENT,  REBECCA PRONSKY, NEW AMERICAN FARMERS, RICH McCULLEY, THE MILK CARTON KIDS, THE STAVES, THE WATERBOYS … more new releases
Here's the best Americana and roots-type music releases for the week of March 12th, 2013 from Americana Boogie.  Click the artist or album links to find out more.  The artist's names link to their websites and the CD title links go either " target="_blank">Amazon or CD Baby for easy ordering.  Also check out the Freight Train Boogie podcasts featuring mostly songs from new Americana releases.  Playlists with players and iTunes links are posted at FTBpodcasts.com.

Here's a link to this week's Americana Music Association Americana Airplay Chart
Bill Frater
Freight Train Boogie
---