Americana Boogie new releases for the week of June 4th…
---
WARREN HOOD BAND
Warren Hood Band (Red Parlor)
Warren Hood began playing the fiddle at the age of eleven. The son of Austin music legend, Champ Hood (Uncle Walt's Band, Toni Price), Warren has become an accomplished multi-instrumentalist, songwriter and singer. He has toured extensively as a member of acclaimed Bay Area band The Waybacks in recent years. The Warren Hood Band features Austin guitar ace Willie Pipkin, and singer and pianist, Emily Gimble. Gimble is the granddaughter of fiddler Johnny Gimble, who was a member of the original Texas Playboys. The self-titled debut album was produced by Charlie Sexton.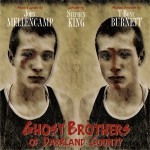 Various Artists
Ghost of Darkland County (Hear/Concord)
From the minds of co-conspirators Stephen King, John Mellencamp and T Bone Burnett comes Ghost Brothers of Darkland County, a southern gothic supernatural musical thriller of fraternal love, lust, jealousy and revenge. This extraordinary collaboration features original music and lyrics plus key dialog excerpts performed by a cast of guest artists including Elvis Costello, Rosanne Cash, Sheryl Crow, Neko Case, Taj Mahal, Ryan Bingham and Kris Kristofferson, along with actors Matthew McConaughey, Samantha Mathis and Meg Ryan. There are a number of different versions of this release including a 2CD/1DVD hardcover edition with the digital libretto and other bonus material.
Also new this week…
RORY BLOCK – Avalon: A Tribute to Mississippi John Hurt (Stony Plain)
MELISSA FERRICK – The Truth Is (Empress)
GREEZY WHEELS – Kitty Cat Jesus (MaHatMa)
JOY KILLS SORROW – Wide Awake (Signature Sounds) (EP)
MANDO SAENZ – Studebaker (Carnival)
Coming out soon… JASON ISBELL, AOIFE O'DONOVAN, DAN HICKS & THE HOT LICKS, TOMMY MALONE, SLAID CLEAVES, DELBERT McCLINTON & GLEN CLARK, DONNA THE BUFFALO … more new releases
Here's the best Americana and roots-type music releases for the week of June 4th, 2013. Click the artist or album links to find out more. The artist's names link to their websites and the CD title links go either " target="_blank">Amazon or CD Baby for easy ordering.
Here's a link to this week's Americana Music Association Americana Airplay Chart
Bill Frater
Freight Train Boogie
---