Americana Boogie new releases for the week of June 18th… Slaid Cleaves, Delbert & Glen, Donna The Buffalo, Tommy Malone…
---
SLAID CLEAVES
Still Fighting The War (Music Road)
When Slaid Cleaves wrote the title track for his new album, he had a specific subject in mind. Inspired by a series of photos on an Iraq War veteran suffering from PTSD, he sought to address the plight of those returning from war and struggling to readjust to society. But as the album progressed, the phrase "still fighting the war" began to take on a broader meaning. "In the past, when I would start writing a new batch of songs a theme would emerge early on. My process this time was just to write as many good songs as I could, not concerning myself with how they all fit together," he says. "But when I began to settle on the songs a theme of perseverance through hard times revealed itself. It runs through the album, as it carries into all of our lives. The recession's over, but these aren't exactly happy days. We're all still struggling, we all keep pushing along." While many of the songs on Still Fighting The War focus on struggle and pain, the album, as a whole, is far from morose. "It's fun to watch an audience enjoy something light hearted between the workplace disaster songs and tragic love stories," he says. "There's no better satisfaction than creating something new and then connecting with people and finding that your work moves them in a profound way.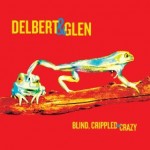 DELBERT & GLEN
Blind, Crippled & Crazy (New West)
Grammy Award winner and Americana legend, Delbert McClinton returns to where he began his recording career over 40 years ago, a duets record with Glen Clark. Delbert & Glen released 2 albums in the early 70s. The two remained friends and now have reunited for Blind, Crippled & Crazy. Produced by Gary Nicholson, the 2013 album delivers all the swampy blues, soul and honky tonk sounds with lyrics and harmonies full of wisdom and wit. An easy atmosphere of camaraderie, a lived-in sense of community, surrounds this homey reunion, as Delbert and Glen amble up, sit a spell, and share a few songs. You can almost hear the rocking chair creaking below them on the front porch. 
Also new this week…
DONNA THE BUFFALO – Tonight, Tomorrow & Yesterday (Welk)
BETSE ELLIS – High Moon Order (Free Dirt) (from The Wilders)
PHOEBE HUNT – Live at The Cactus Café (self released)
TOMMY MALONE – Natural Born Days (M.C.) (from The Subdudes)
EDDIE SPAGHETTI – The Value of Nothing (Bloodshot)
Coming out soon… SUSAN WERNER, Let Us In: Americana — The Music of Paul McCartney, MAVIS STAPLES, WILLIE NILE … more new releases  Here's a link to this week's Americana Music Association Americana Airplay Chart
Here's the best Americana and roots-type music releases for the week of June 18th, 2013 from Americana Boogie. Click the artist or album links to find out more. The artist's names link to their websites and the CD title links go either " target="_blank">Amazon or CD Baby for easy ordering.
Bill Frater
Freight Train Boogie
---