Americana Boogie new releases for the week of June 11th…Jason Isbell, Sturgill Simpson, Aoife O'Donovan, Charlie Robison…
---
JASON ISBELL
Southeastern (Southeastern/Thirty Tigers)
The new solo album from Jason Isbell, contains his most personal songs of self-reflection and discovery he has written to date. The lyrics of the beautiful and haunting opening track "Cover Me Up", make it immediately apparent that he is speaking from an entirely new viewpoint. Isbell struggled, fought his demons, and has remained sober for over a year now. However, Southeastern is not an album preaching sobriety, but a work of repentance, self-realization and most importantly, personal growth. Tracks such as "Stockholm" (with Kim Richey) and "Traveling Alone" (with new wife Amanda Shires) offer laid back tempos and memorable choruses, while "Flying Over Water" and "Super 8" are strong reminders of Isbell's deep roots in rock. The poetic and deeply intimate lyrics are the common thread that runs throughout the album, perhaps no better illustrated than on Live Oak.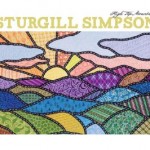 STURGILL SIMPSON
High Top Mountain (High Top Mountain/Thirty Tigers)
Nashville sounds like Nashville again on High Top Mountain, the debut release from singer-songwriter Sturgill Simpson. From furious honky-tonk and pre-outlaw country-rocking to spellbinding bluegrass pickin' and emotional balladry, the album serves as a one-stop guide to everything that made real country music such a force to be reckoned with. Pure and uncompromising, devoid of gloss and fakery, High Top Mountain's dozen tunes that evoke the sound of timeless country in its many guises and brings back the lyrical forthrightness and depth that permeated the music Simpson absorbed during his Kentucky childhood.
Also new this week…
DAN HICKS & THE HOT LICKS – Live at Davies Symphony Hall (Surfdog)
AOIFE O'DONOVAN – Fossils (Yep Roc)
CHARLIE ROBISON – Live at Billy Bob's Texas (1-2-3-4-GO!) (2 CD's, 1 DVD)
BOB SCHNEIDER – Burden of Proof (Kirtland)
Coming out soon… TOMMY MALONE, SLAID CLEAVES, DELBERT McCLINTON & GLEN CLARK, DONNA THE BUFFALO, EDDIE SPAGHETTI, SUSAN WERNER, MAVIS STAPLES, WILLIE NILE … more new releases.
Here's a link to this week's Americana Music Association Americana Airplay Chart
Here's the best Americana and roots-type music releases for the week of June 11th, 2013 from Americana Boogie. Click the artist or album links to find out more. The artist's names link to their websites and the CD title links go either " target="_blank">Amazon or CD Baby for easy ordering.
Bill Frater
Freight Train Boogie
---