Americana Boogie new releases for the week of Jan. 29th… Kris Kristofferson, Dale Watson, Ben Harper & Charlie Musselwhite, Fiction Family..
Posted On January 29, 2013
---
KRIS KRISTOFFERSON
Feeling Mortal (KK)
Kristofferson and producer Don Was spent three days recording Feeling Mortal, cutting 20 songs and picking 10, then bolstering the basic tracks with stellar instrumental work from guitarist Mark Goldenberg, pedal steel master Greg Leisz, keyboardist Matt Rollins, violinist and vocalist Sara Watkins, bassist Sean Hurley and drummer Aaron Sterling.  They emerged with a piece of work that Was suggests is "One of Kris' finest albums." Above all, Kristofferson is happy to be happy, grateful to be grateful, and wholly unwilling to take the credit for the wondrous way it's all worked out. In the end, Feeling Mortal is a melodic note of gratitude, from creator to Creator.  "God Almighty, here I am," he sings. "Am I where I ought to be? I've begun to soon descend, like the sun into the sea/ And I thank my lucky stars, from here to eternity/ For the artist that You are/ And the man you made of me."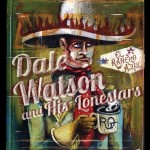 DALE WATSON
El Rancho Azul  (Red House)
Recorded at good friend Willie Nelson's Pedernales studio, El Rancho Azul features the first studio recording of the fan favorite "I Lie When I Drink" as well as a father's touching sentiments reflected in "Daughter's Wedding Song." Boasting rollicking songs of drinking, barrooms, and dance floor romance, El Rancho Azul is as real as country music gets and is sure to get you on the dance floor! (press release)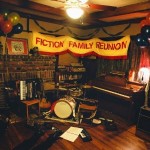 FICTION FAMILY
Fiction Family Reunion (Rock Ridge)
This second full-length partnership of Jon Foreman (Switchfoot) and Sean Watkins (Nickel Creek), sees two distinctive artists offering up their blend of folk, pop, and songcraft. Convening at Switchfoot's Spot X Studio in Carlsbad, CA for a series of sessions, the band produced themselves, keeping it intimate and organic. The first single "Up Against the Wall" notes the influence of The Band's "The Weight," as Fiction Family's attempt to find that same DNA.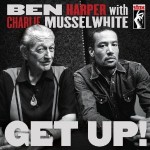 BEN HARPER WITH CHARLIE MUSSLEWHITE
Get Up! (Stax/Concord)
Ben Harper has teamed with renowned harmonica master Charlie Musslewhite to create a piercing song-cycle of struggle and heart. Recorded in Los Angeles and produced by Harper, Get Up! is a striking mix of blues, gospel, roots and R&B, with ten vivid musical character studies, skillfully rendered in cinematic detail, all written or co-written by Harper. Charlie Musslewhite s searing point/counter-point harmonica accentuates Harper's vocals throughout the album, tying its songs together into a cohesive musical whole.
Also new this week…
BRETT DENNEN – The Definitive Collection (Dualtone)
JACOB JONES – Good Timin' In Waynetown  (Electric Western)
TRIXIE WHITLEY – Fourth Corner  (Strong Blood) 
Coming out soon… RICHARD THOMPSON, THE STEELDRIVERS, RON SEXSMITH, MARY GAUTHIER, KELLY WILLIS & BRUCE ROBISON, JUSTIN WELCH, GURF MORLIX… more new releases
Here's the best Americana and roots-type music releases for the week of January 29th, 2013 from Americana Boogie. Click the artist or album links to find out more.  The artist's names link to their websites and the CD title links go either " target="_blank">Amazon or CD Baby for easy ordering.  Also check out the Freight Train Boogie podcasts featuring mostly songs from new Americana releases.  Playlists with players and iTunes links are posted at FTBpodcasts.com.
Here's a link to this week's Americana Music Association Americana Airplay Chart
Bill Frater
Freight Train Boogie
---