Americana Boogie new releases for the week of Feb. 25th – Emmylou Harris & Rodney Crowell, Wayne Hancock, Mavericks, James Hunter, Left Arm Tan, Mount Moriah…
Posted On February 26, 2013
---
WAYNE HANCOCK
Ride (Bloodshot)
Wayne checks in with his 8th album co-produced by Wayne and Lloyd Maines, it  cements Wayne's life-long calling ["All I want to do is play the Joints 'til the day I die"] as a modern-day traditionalist through his signature mix of roadhouse blues, hepcat boogie, rockabilly, and juke joint swing. As Hank III once said, "Wayne Hancock has more Hank Sr. in him than either I or Hank Williams Jr. He is the real deal." Ride is built on a vibe that is at once more direct and personal than those of his previous releases. "The album is an organic reaction to life's challenges … these are not sad songs," say Hancock.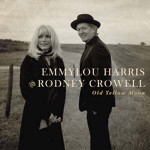 EMMYLOU HARRIS & RODNEY CROWELL
Old Yellow Moon (Nonesuch)
Old Yellow Moon is the first official collaboration from these two since Crowell joined Harris' Hot Band as guitarist and harmony singer in 1975. The album features world-renowned musicians including Stuart Duncan, Vince Gill, and Bill Payne, as well as members of the original Hot Band. Old Yellow Moon features four songs written by Crowell as well as interpretations of songs such as Hank DeVito's 'Hanging Up My Heart,' Roger Miller's 'Invitation to the Blues,' and Allen Reynolds' 'Dreaming My Dreams,' among others. Produced by Brian Ahern, the original producer or Emmy's classic early albums. Highly recommended!
Check out the fine interview video from Nonesuch on YouTube..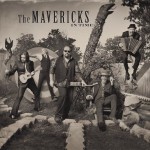 THE MAVERICKS
In Time (Valory)
This is the first album in 10 years from the reunited Country/Rock outfit led by Raul Malo. Again drawing on myriad influences – from Buck Owens' tonk to Roy Orbison's heartbreak, Ravel's eroticism to Buena Vista Social Club's infectious rhythms, Patsy Cline's brazen emotion and that little Mavericks' magic. The sessions were spontaneous combustion; literally, the band falling into step with the euphoria they were known for.  And they built quite an album from there. "It took life for us to get to this point everybody was so free. From the first notes, it sounded like an explosion of sound; we went where the songs took us with a singularity of purpose. We came in to make music as grown-ups, to make music as men." Raul Malo
Also new this week…
JOAN ARMATRADING – Starlight (429)
BEAUSOLEIL AVEC MICHAEL DOUCET –From Bamako to Carencro  (Compass)
THE CIVIL WARS & T BONE BURNETT – A Place at the Table (Sensibility Music) (original soundtrack recording)
THE FABULOUS THUNDERBIRDS – On The Verge (Severn)
STEAFAN HANVEY – Nuclear Family (Honeyworks)
THE JEFF HEALEY BAND – House On Fire: The Jeff Healey Band Demos & Rarities (Eagle Rock)
THE JAMES HUNTER SIX – Minute By Minute (Fantasy)
LEFT ARM TAN – Alticana (Left Arm Tan)
MOUNT MORIAH – Miracle Temple  (Merge)
HADDEN SAYERS – Rolling Soul (Blue Corn Music)
Coming out soon… PHIL LEE, GURF MORLIX, SON VOLT, MADELEINE PEYROUX, CAITLIN ROSE, THE HOWLIN' BROTHERS,  BOZ SCAGGS, ERIC CLAPTON, THE BLACK LILLIES,  PHOSPHORESCENT, THE CASH BOX KINGS, HEATHER MALONEY, NEW AMERICAN FARMERS, RICH McCULLEY, WILLIE NELSON … more new releases
Here's the best Americana and roots-type music releases for the week of February 26th, 2013 Click the artist or album links to find out more.  The artist's names link to their websites and the CD title links go either " target="_blank">Amazon or CD Baby for easy ordering.  Also check out the Freight Train Boogie podcasts featuring mostly songs from new Americana releases.  Playlists with players and iTunes links are posted at FTBpodcasts.com.
Here's a link to this week's Americana Music Association Americana Airplay Chart
Bill Frater
Freight Train Boogie
---