Americana Boogie new releases for the week of April 2nd
---
KENNY ROBY
Memories & Birds (Little Criminal)
Roby as an artist continuing to mature and evolve since his ending of 6-String Drag in 1998. A dark, often lonely and very human record, Memories & Birds is filled with surprising twists and turns, shadowy corners and broken dreams. The provocative characters and the narrative thread running throughout this complex eight-song cycle evoke the stark imagery and themes of Faulkner, O'Connor, Percy and McCarthy. Musically, the album covers a wide range of Roby influences. There's the Motown meet 60's pop shuffle of "Tired of Being In Love," the Townes Van Zandt rhythm and almost cowboy meets 50's crooner vocals of "Craziest Kid Around," and the lazy afternoon breeze of New Orleans in the title track. With a layered mix of strings and horns and background singers, each song on Memories & Birds is a new and pleasant surprise.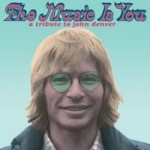 Various Artists
The Music Is You: A Tribute to John Denver (ATO)
15 years after his death and 40 years after the release of his widely beloved song "Rocky Mountain High," ATO Records celebrates John Denver's life and music with The Music Is You: A Tribute to John Denver. The album features covers of Denver's most popular songs by a very diverse group of artists including Dave Matthews, My Morning Jacket, Train, Kathleen Edwards, Old Crow Medicine Show, Lucinda Williams and many others… A portion of the proceeds will be donated to The Wilderness Society in John's name.
Also new this week…
IAN McFERON – Time Will Take You (self released)
SONS OF FATHERS – Burning Days (Blanco River)
THE WHEELER BROTHERS – Gold Boots Glitter (Bismeaux)
Coming out soon… NEW AMERICAN FARMERS, DEADSTRING BROTHERS, DAWES, WILLIE NELSON, KIM RICHEY, NORA JANE STRUTHERS, AMY SPEACE, STEVE EARLE, ADAM KLEIN, STEVE MARTIN/EDIE BRICKELL … more new releases
Here's the best Americana and roots-type music releases for the week of April 2nd, 2013 from Americana Boogie. Click the artist or album links to find out more. The artist's names link to their websites and the CD title links go either " target="_blank">Amazon or CD Baby for easy ordering. Also check out the Freight Train Boogie podcasts featuring mostly songs from new Americana releases. Playlists with players and iTunes links are posted at FTBpodcasts.com.

Here's a link to this week's Americana Music Association Americana Airplay Chart
Bill Frater
Freight Train Boogie
---