Americana Boogie new releases for the week of April 16th… Steve Earle, Kim Richey, Willie Nelson, Shinyribs, JJ Grey and more…
---
STEVE EARLE
The Low Highway (New West)
He's such a busy guy these days, what with his acting and writing careers, that it's possible that some younger folks might not realize that Steve Earle is one of the finest songwriters of his generation and a fearless recording artist. The Low Highway leaves no doubt that Earle is clearly focused on is music. Whereas his original music of the past decade has had an unrelenting political bent that sometimes overwhelmed the craft behind it, he has found a way to deliver a much more balanced album this time around, probably his best in that regard since 2000's Transcendental Blues. Earle by no means has abandoned his social concerns; in actuality, the first three songs on The Low Highway combine to create quite a damning portrait of this country. He does this not by taking pot shots at easy targets; instead, he builds his case through character sketches and telling observations. Earle has assembled a crack back-up band, and they come in handy whenever he makes a stylistic detour, from the zydeco-flavored "That All You Got?" to the gentle swing of "After Mardi Gras." An even more important ingredient to the album's success is the songwriter's willingness to change up his subject matter up and look inward almost as often as he does outward. If you're listening to a Steve Earle album, you know you're going to get the truth. The good news is that this one is so powerful and varied that it will make those hard truths a little easier to bear even after the disc ends. (excerpted from American Songwriter review by Jim Beviglia)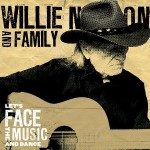 WILLIE NELSON
Let's Face The Music and Dance (Sony Legacy)
This April-2013 Willie Nelson turns 80 years old, a milestone which has not slowed down the American icon in the slightest. Following the success of his 2012 success Heroes, Willie Nelson returns, this time with his Family band, to deliver another beautiful new album of songs that are near and dear to his heart. Like the man himself, this stunning collection is not easily defined by genre or style. The songs include American standards and country classics, Irving Berlin and Carl Perkins, Django Reinhart as well as Willie-penned originals. Yet the result is a beautiful, cohesive set songs about love and reflection in Willie's inimitable style. It is a record in the vein of both Stardust and Redheaded Stranger and destined to become a classic.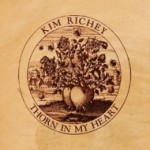 KIM RICHEY
Thorn In My Heart (Yep Roc)
Kim Richey's newest album is a smart, sensual understatement that may be one of her best. The dozen songs themselves show that Richey's still dreaming up fetching melodies that arc and bend in unexpected ways, and still discovering fresh angles from which to articulate matters of the heart. The array of top-tier guests include Trisha Yearwood, Jason Isbell, Wilco's Pat Sansone, My Morning Jacket's Carl Broemel, and Will Kimbrough.
Also new this week…
DRIVIN' n CRYIN' – Songs From The Psychedelic Time Clock(Almost Loaded)
JJ GREY & MOFRO – This River (Alligator)
IRON & WINE – Ghost on Ghost (Nonesuch)
ADAM KLEIN & THE WILDFIRES – Sky Blue DeVille (Cowboy Angel)
DOYLE LAWSON & QUICKSILVER – Roads Well Traveled (Mountain Home)
SHANNON McNALLY – Small Town Talk (Sacred Sumac)
SHINYRIBS – Gulf Coast Museum (Nine Mile) (Kevin Russell from The Gourds)
AMY SPEACE – How to Sleep in a Stormy Boat (1-2-3-4-GO!)
NORA JANE STRUTHERS AND THE PARTY LINE – Carnival (Blue Pig)
Various Artists – Way To Blue – The Songs Of Nick Drake (StorySound) 
Coming out soon… STEVE MARTIN & EDIE BRICKELL, JERRY MILLER, ERIC BRACE & PETER COOPER, LORI McKENNA, THE BILLS, THE CHAPIN SISTERS, LUKE WINSLOW-KING, ANDREW DUHON, THE WILL CALLERS, PATTY GRIFFIN… more new releases
Here's the best Americana and roots-type music releases for the week of April 16th, 2013. Click the artist or album links to find out more. The artist's names link to their websites and the CD title links go either " target="_blank">Amazon or CD Baby for easy ordering. Also check out the Freight Train Boogie podcasts featuring mostly songs from new Americana releases. Playlists with players and iTunes links are posted at FTBpodcasts.com.
Here's a link to this week's Americana Music Association Americana Airplay Chart
Bill Frater
Freight Train Boogie
---