Americana Boogie: New music this week from Todd Snider, Bruce Springsteen, New Riders, Hobart Bros. & more…
---
Here's some great new Americana and roots-type music releases for the week of March 6th, 2012 from AmericanaBoogie.com. Follow the artist or album links to find out more. The artist's names link to their websites and the CD title links go to either " target="_blank">Amazon or CD Baby for easy ordering. The Freight Train Boogie podcasts feature mostly songs from new releases. Playlists with players and iTunes links are posted at FTBpodcasts.com.
THE HOBART BROTHERS WITH LIL' SIS HOBART
At Least We Have Each Other  (Freedom)
Freedy Johnston, Jon De Graham and Susan Cowsill are The Hobarts. The three singer-songwriters got together in an Austin backyard in 2010 to write songs about their early days (yes, even Sue) working in restaurants. They took the family name Hobart, after the dishwasher found in nearly every commercial kitchen, and began to reminisce. Over the next couple of months, they put together ten songs about cooks and waitresses and dishwashers, but also songs about Mexican-American truck-drivers, pleasant dreams had while living in your car, despair on a pay phone, unread letters and, of course, love. The finished album provides a rare glimpse of what three unique and talented artists might come up with when they think no one else is listening. The songs were recorded live with one or two takes, and there is a resonant honesty and completeness to them. (from Conqueroo Publicity) The album is available as a digital download only, the physical CD is due May 8th.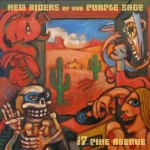 NEW RIDERS OF THE PURPLE SAGE
17 Pine Avenue  (Woodstock)
17 Pine Avenue features twelve new songs, seven of which were written by David Nelson and Grateful Dead lyricist Robert Hunter. Produced by Michael Falzarano, who also sings, plays guitar and wrote a few songs, taking the place of the late John Dawson. Steel player Buddy Cage remains from the original band. Their website says it's psychedelic Americana at its finest.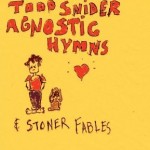 TODD SNIDER
Agnostic Hymns and Stoner Fables  (Aimless)
"This record doesn't come from good times," Snider says. "I wanted to sound the way I feel, which sometimes means sounding like a broken soul." It is jagged, leering, lurching and howling, and filled with unhappy endings both experienced and intimated: "It ain't the despair that gets you, it's the hope," he sings in the album-closer, "Big Finish." The first song is appropriately titled "In the Beginning," and it's a gumbo of eschatology and economics that speculates that religion may have originated with a desire to protect the wealthy. There's one happy love song, called "Brenda," about Snider's favorite couple, Keith Richards and Mick Jagger. "I admire that relationship a lot," Snider says. "What Mick and Keith have is real, and it can't be touched and it can't be beat." (from Todd's website)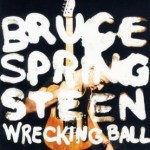 BRUCE SPRINGSTEEN
Wrecking Ball  (Columbia)
I wouldn't normally post anything about an artist as popular as Bruce but I support his populist sentiments on this new one. In Rolling Stone David Fricke writes "Wrecking Ball is the most despairing, confrontational and musically turbulent album Bruce Springsteen has ever made. He is angry and accusing in these songs, to the point of exhaustion, with grave reason. The America here is a scorched earth: razed by profiteers, and suffering a shameful erosion in truly democratic values and national charity." For a day or 2 you can listen to the whole album on his website. Check out "Easy Money" or "jack Of All Trades" or the twangy "We Are Alive."
Also new this week…
ANDREW BIRD – Break It Yourself (Mom & Pop Music)
DEMOLITION STRING BAND – Gracious Days (Varese Sarabande)
EMMA-LEE – Backseat Heroine (Special Agent)
THE HONEYDOGS – What Comes After (Grain Belt)
JERRY JOSEPH & THE JACKMORMANS – Badlandia (Response)
JULIE LEE & THE BABY-DADDIES – Julie Lee & The Baby-Daddies (Still House Road)
Coming soon… SHOOTER JENNINGS, LUCERO, THE DECEMBERISTS, SAM LEWIS, THE BAND OF HEATHENS, JUSTIN TOWNES EARLE, RAY WYLIE HUBBARD, JOAN OSBORNE… more new releases
Here's a link to this week's Americana Music Association Americana Airplay Chart
---