Americana Boogie: New music this week from Shooter Jennings, Lucero, The Decemberists & more…
---
Here's some great new Americana and roots-type music releases for the week of March 13th, 2012, as posted on Americana Boogie each Monday. Follow the artist or album links to find out more. The artist's names link to their websites and the CD title links go to either ">Amazon or CD Baby for easy ordering. The Freight Train Boogie podcasts feature mostly songs from new releases. Playlists with players and iTunes links are posted at FTBpodcasts.com.
SHOOTER JENNINGS
Family Man  (Black Country Rock/Entertainment One)
As the title suggests, Family Man is Shooter's most personal and introspective album to date, focusing on his home life with wife and children, the endless temptations of life on the road, his Southern heritage and upbringing, and his unique position among today's country musicians. Recording in his recently adopted hometown of New York, producing himself for the first time, and playing with a group of extremely talented musicians he has dubbed "The Triple Crown," The son of Waylon and Jesse Colter, Jennings is more relaxed and confident on this album than ever before. (edited from press release) Below is the nice video interview promoting the album.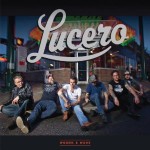 LUCERO
Woman & Work  (ATO)
Women & Workis a love letter from Lucero to its hometown, Memphis, Tennessee. "Having a band in Memphis puts you in a tradition," says Lucero frontman Ben Nichols. "We started at punk rock shows, not necessarily playing punk rock, but coming from the outside, from a bohemian place." Their 8th album, is a presentation of the band's eclectic explorations that it makes their 14-year meandering path appear to be a straight line to this very record. "We're more comfortable in our own skin as a band, more comfortable acknowledging regional influences," says bassist John Stubblefield. "We wound up making a Memphis country soul record." (edited from press release)
Also new this week…
THE DECEMBERISTS – We All Raise Our Voices To The Air (Live Songs 04.11-08.11)   (Capitol) (2-CD or 3-LP live set)
DELTA SPIRIT – Delta Spirit  (Concord)
SAM LEWIS – Sam Lewis  (self released)
JANIVA MAGNESS – Stronger For It  (Alligator)
Coming soon… THE BAND OF HEATHENS, JUSTIN TOWNES EARLE, RAY WYLIE HUBBARD, JOAN OSBORNE… more new releases
Here's a link to this week's Americana Music Association Americana Airplay Chart
---