Americana Boogie new music for the week of Oct. 30th from Neil Young & Crazy Horse, James Hand, Andrew Bird, Luka Bloom…
Posted On October 30, 2012
---
Here's the best Americana and roots-type music releases for the week of October 30th, 2012. New releases are starting to slow down as is the norm for this time of year. Click the artist or album links to find out more. The artist's names link to their websites and the CD title links go either " target="_blank">Amazon or CD Baby for easy ordering. Also check out the Freight Train Boogie podcasts featuring mostly songs from new Americana releases. Playlists with players and iTunes links are posted at FTBpodcasts.com.
JAMES HAND
Mighty Lonesome Man  (Hillgrass Bluebilly)
We've written about how James "Slim" Hand is the most authentic country singer in Texas today. What's sometimes forgotten is that Hand is an exceptionally emotive songwriter, putting the poetry of his being to melodies that warm like a borrowed sweater. His previous album Shadow On the Ground was an impressive showcase of Hand's vocals, but his new album delves deeper inside. It's slightly denser. The heart is heavier. In true honky tonk fashion, Hand and band toss moments of frivolity, wonderfully seasoned by Cindy Cashdollar on steel and Earl Poole Ball's barrelhouse piano. (Michael Corcoran, Austin360)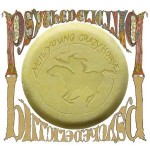 NEIL YOUNG & CRAZY HORSE
Psychedelic Pill  (Reprise)
Unlike the folksy Americana, this one is a meat-and-potatoes rock album, filled with loud guitar solos and plenty of deep-seated grooves. The songs are long, and the mood is decidedly retro, with Neil venting his distaste for modern conveniences like MP3's. In other words, Psychedelic Pill is a proper reunion record, a chance for Mr. Young and his classic band to rediscover the joy of playing thunderous rock 'n' roll. It takes a dedicated fan to make it through the full album, though. There are moments when the band locks into a loose-limbed rhythm and gallops forward, sounding mighty and melodic. Alas, there's also a good deal of excess fat that could've been trimmed from these songs, and as the album title suggests, Psychedelic Pill is best taken in moderation. (Washington Times review) Neil is on Twitter answering questions on occasion… #askneil at @neilyoung.
Also new this week..
ANDREW BIRD – Hands of Glory (Mom & Pop Music)
LUKA BLOOM – This New Morning (Compass)
R. RING – Fallout & Fire (Misra)
HAROLD HONEY – Helltown(self released)
MATTHEW RYAN – In the Dusk of Everything  (self released)
Coming out soon… PAUL KELLY, NU-BLU, NELS ANDREWS … more new releases
Here's a link to this week's Americana Music Association Americana Airplay Chart
Bill Frater
Freight Train Boogie
---