Americana Boogie music releases for the week of Sept. 4th include Houston Marchman, Dave Stewart, Cat Power, Brian Setzer…
Posted On September 5, 2012
---
Here's the best Americana and roots-type music releases for the week of September 4th, 2012 from Americana Boogie. Not much real Americana stuff this week with the Labor Day holiday and all in the States. Click the artist or album links to find out more. The artist's names link to their websites and the CD title links go either " target="_blank">Amazon or CD Baby for easy ordering. The Freight Train Boogie podcasts feature mostly songs from new Americana releases. Playlists with players and iTunes links are posted at FTBpodcasts.com.
HOUSTON MARCHMAN
Econoliner (Winding Road)
With ten records behind him, Houston Marchman still has much to say and his fans are thrilled to know there is more coming. Music lovers who appreciate an honest outlook on life and enjoy the sounds of country music packed with the punch of rock, while carrying on the tradition of Texas Folk, conjunto, polka, and blues are constantly satisfied taking in the true-to-life tunes of Houston Marchman. Recommended!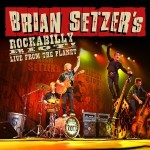 BRIAN SETZER
Rockabilly Riot! Live From The Planet (Surfdog)
This will be pretty hard to top for a soundtrack the next time you throw a party. This full throttle live set is compiled from his recent world tour. All shows were recorded and this disc features the best take of each song they performed. The title tells the whole story as Setzer continues to rock his way through the universe.(Village Records)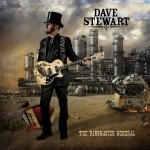 DAVE STEWART
The Ringmaster General (Surfdog)
A potent and distinctive musical gumbo with rock, blues, country, rhythm & blues and psychedelia, The Ringmaster Generalfeatures 13 songs including duets with Alison Krauss, Diane Birch and Joss Stone. Stewart is backed by some of the finest musicians in Nashville including: guitarist Tom Bukovac, drummer Chad Cromwell, bassist Michael Rhodes, steel guitarist Dan Dugmore. Says Stewart: "Well to me Nashville has that electric music energy feeling that you get when you arrive in certain cities or towns like Kingston, Jamaica and Havana in Cuba, except Nashville also has the feeling of being in the heart of a huge country (which it is) and it feels kinda like coming home." He elaborates: "But it s mainly about the people I work and play with there. I ve been so fortunate as to have landed in the arms of the McBrides and becoming part of an extended family. John McBride and I share the same crazy passion for sound and all the guys in the band I record with (and the girls) are up for that wild adventure I like to bring in the studio."
Also new this week…
CAT POWER – Sun (Matador)
IAN HUNTER & THE RANT BAND – When I'm President (Slimstyle)
MY DARLING CLEMENTINE –How Do You Plead? (Redeye)
TOWN MOUNTAIN – Leave the Bottle (Pinecastle)
Coming out soon… MALCOLM HOLCOMBE, THE AVETT BROTHERS, PATTERSON HOOD, KATHY MATTEA, GUY FORSYTH, CHRIS KNIGHT, BOB DYLAN, THE TIME JUMPERS, JIMMY LAFAVE, RYAN BINGHAM, CALEXICO, BLACK PRAIRIE, DWIGHT YOAKAM … more new releases
Here's a link to this week's Americana Music Association Americana Airplay Chart
Bill Frater
Freight Train Boogie
---