Americana Boogie music releases for the week of Nov. 6th… Greg Brown, Paul Kelly, Eric Bibb & Habib Koite
Posted On November 7, 2012
---
Here's the best Americana and roots-type music releases for the week of November 6th, 2012 from Americana Boogie. New releases are starting to slow down as is the norm for this time of year. Click the artist or album links to find out more. The artist's names link to their websites and the CD title links go either " target="_blank">Amazon or CD Baby for easy ordering. Also check out the Freight Train Boogie podcasts featuring mostly songs from new Americana releases. Playlists with players and iTunes links are posted at FTBpodcasts.com.
GREG BROWN
Hymns to What Is Left  (Sawdust)
At the core of Hymns To What Is Left is the near-magical, copacetic interplay of Brown's driven and graceful acoustic picking with longtime collaborator/producer Bo Ramsey's distinctive artful soundscapes via bell-toned electric guitars and haunting slide. In co-producing the album, Ramsey and Brown dug all the way into "less-is-more" and came out with a recording spotlighting Brown's artistry on all levels. No drums or bass, the rustic mix was rounded out with contributions by Bob Black (banjo), Al Murphy (fiddle and mandolin) with family members Pieta, Iris and Constie adding harmonies to a few tracks. The result is an album of 14 uniquely unforgettable songs that find Greg Brown at the peak of his estimable vocal powers supported by an all-world stringband that's absolutely locked-in–in short, a masterpiece that may well be the finest front-to-back endeavor of his career. (Jim Musser, from Greg's site)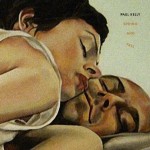 PAUL KELLY
Spring & Fall (Cen)
Paul Kelly has recorded eighteen studio albums as well as several film soundtracks and two live albums, in an influential career spanning more than thirty years. He is somewhat of a legend in his native Australia and his sensitive songwriting deserves much more recognition in other countries. After a quiet 5-years he has returned in 2012 with not only this new album but Stories Of Me, a feature-length documentary premiered in Melbourne in August. a book, How to Make Gravy: A to Z, A Mongrel Memoir, and even an iTunes app, How To Make Gravy, where you can listen to him read the book How to Make Gravy, while simultaneously listening to his music.
Also new this week…
ERIC BIBB & HABIB KOITE – Brothers in Bamako (Stony Plain)
Coming out soon… NU-BLU, NELS ANDREWS, JASON ISBELL & THE 400 UNIT, BUDDY AND JIM … more new releases
Here's a link to this week's Americana Music Association Americana Airplay Chart
Bill Frater
Freight Train Boogie
---