Americana Boogie music releases for the week of Nov. 26th from The Radiators, Sweetback Sisters…
Posted On November 27, 2012
---
THE RADIATORS
The Last Watusi  (Radz)
3 CD live set that represent the best of each of the final 3 shows at Tipatina's in New Orleans. The first night was an all acoustic affair mixing Rads originals with covers by Bob Dylan and Jesse Winchester. The last two discs represent a band on a mission, to go out in style and leave nothing on the table. The songs cover the entire 33 year career of the band and include fan favorites and a couple of lesser known Rad's gems. Altogether the set includes over 3 ½ hours of gritty down home Nawlins' rock n' roll that shows just how versatile the band was.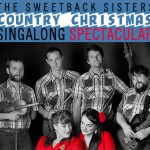 THE SWEETBACK SISTERS
The Sweetback Sisters' Country Christmas Sing-Along Spectacular  (Signature Sounds)
Brooklyn's favorite country band spreads the holiday cheer with their Country Christmas Sing Along Spectacular. The album begins with "Christmas Boogie" by the Davis Sisters and goes on a genre bending sleigh ride through time with the Stanley Brothers' "Beautiful Star of Bethlehem" and "Hark the Harold's Angel's Sing", a tribute to Jingle Cats. All the songs are presented with the Sisters' signature mix of harmony singing, rollicking telecaster and twin fiddling along with a healthy dose of holiday cheer. 
Also new this week…
JUDY COLLINS – Live from the Metropolitan Museum of Art  (13 Amp)
THE HOLLYFELDS – Title Stealers  (self released)
Coming out soon… LEVON HELM, BUDDY AND JIM … more new releases
These are th best Americana and roots-type music releases for the week of November 26th, 2012. New releases are starting to slow down to a trickle as always happens this time of year. Click the artist or album links to find out more. The artist's names link to their websites and the CD title links go either " target="_blank">Amazon or CD Baby for easy ordering. Also check out the Freight Train Boogie podcasts featuring mostly songs from new Americana releases. Playlists with players and iTunes links are posted at FTBpodcasts.com.
Here's a link to this week's Americana Music Association Americana Airplay Chart
Bill Frater
Freight Train Boogie
---