Americana Boogie Music Releases for the week of May 22nd with Tedeski Trucks Band, Loafer's Glory, Leftover Salmon and more…
---
Here's the best Americana and roots-type music releases for the week of May 22nd, from the Americana Boogie blog. Click the artist or album links to find out more. The artist's names link to their websites and the CD title links go either " target="_blank">Amazon or CD Baby for easy ordering. The Freight Train Boogie podcasts feature mostly songs from new releases. Playlists with players and iTunes links are posted at FTBpodcasts.com.
LOAFER'S GLORY
Loafer's Glory  (Arhoolie)
In the winter of February 2010, four players decided to form a new group with a direction combining the best of old-time and bluegrass music. These brave hearts have been playing acoustic music for the better part of 45 years, and found that this is indeed the time for another highly skilled acoustic band Loafer's Glory. Featuring bluegrass and old-time legends Herb Pedersen, Bill Bryson, Tom Sauber, and Patrick Sauber, who between them have played with The Foggy Mountain Boys, Ry Cooder, Laurie Lewis, Alice Gerrard, Mike Seeger, The Dillards, the Desert Rose Band, just to name a few.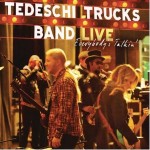 TEDESKI TRUCKS BAND
Everybody's Talkin'  (Sony Legacy)
As husband-wife couples go in the world of music, it is a challenge to find a duo as well-fitted and naturally prolific as that of singer/guitarist Susan Tedeschi and guitarist Derek Trucks. They are both heavily steeped in the blues tradition, yet open to far-ranging influences including rock, gospel, jazz and World music. As last year's lengthy Revelator World Tour wound down, the band decided to record their October concerts in the highest quality possible, and their foresight paid off as the group turned in several of their most powerful performances in the band's history. From that fruitful run of shows THIS two-disc set (also available on vinyl) that captures the collective spirit and lift of a typical TTB concert—raising the roof with a Saturday night sense of abandon, before gently concluding with a Sunday morning spiritual.
Also new this week…
CORY BRANAN – Mutt  (Bloodshot)
THE BROTHERS COMATOSE – Respect the Van (self released)
SONNY LANDRETH – Elemental Journey  (Landfall)
LEFTOVER SALMON – Aquatic Hitchhiker (Los)
Coming out soon…
LAKE STREET DIVE, IAN TYSON, EDWARD SHARPE & THE MAGNETIC ZEROS, NEIL YOUNG & CRAZY HORSE, SHAWN COLVIN, MARLEY'S GHOST, RHETT MILLER, ALEJANDRO ESCOVEDO … more new releases
Here's a link to this week's Americana Music Association Americana Airplay Chart
Bill Frater
Freight Train Boogie
---