Americana Boogie Music Releases for the week of March 27 include Justin Townes Earle, Ray Wylie Hubbard & more…
---
Here's some great new Americana and roots-type music releases for the week of March 27th, 2012 as posted on Americana Boogie. There are quite a bit of fine releases this week besides the 3 that I've highlighted. Click the artist or album links to find out more. The artist's names link to their websites and the CD title links go to either " target="_blank">Amazon or CD Baby for easy ordering. The Freight Train Boogie podcasts feature mostly songs from new releases. Playlists with players and iTunes links are posted at FTBpodcasts.com.
ERIC BIBB
Deeper In The Well  (Stony Plain)
Eric Bibb's Deeper in the Wellis a unique combination of traditional and contemporary Louisiana music. Acclaimed folk blues singer/songwriter/guitarist Eric Bibb is backed by an all-star Louisiana band including multi-instrumentalist Dirk Powell, guitarist Cedric Watson, drummer Danny Devillier and harmonica player Grant Dermody. Special guests include Michael Jerome Browne, Jerry Douglas and Christine Balfa.
JUSTIN TOWNES EARLE
Nothing's Going to Change The Way You Feel About Me Now  (Bloodshot)
Produced by Earle alongside longtime collaborator Skylar Wilson, the 10-track album was recorded completely live with no overdubs over a 4-day period at an old converted church recording studio in Asheville, NC. Of the new record, Earle comments, "I think that it s the job of the artist to be in transition and constantly learn more. The new record is completely different than my last one, Harlem River Blues. This time I've gone in a Memphis-soul direction. And that's true enough. While the last one was a love letter to his new hometown of NYC, this new album is a gorgeous, sometimes lush sometimes sparse, paean to a city that's given so much to the world musically. The sweat, the horns, the soul….." (from Bloodshot Records JTE page) Highly recommended! And he's on Letterman Wednesday night, March 28th.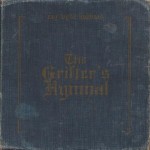 RAY WYLIE HUBBARD
The Grifter's Hymnal  (Bordello)
The opening track of The Grifter's Hymnal, "Coricidin Bottle", tells you everything you need to know about Ray Wylie Hubbard in just under two minutes. He s the kind of scrapper poet with the devil-may-care wherewithal to write both lay down a groove like a monkey getting off and shakes the mortal coil round my amaranthine soul into the same song- and the lethal charm and chops to pull it off. "The album really does have a lot of attitude", Hubbard proclaims. The sound he was aiming for-and bulls eyed- recalls many of his favorite rock records of the 60's, with equal doses of Small Faces, Rolling Stones, and Buffalo Springfield. (from Amazon page)
Also new this week…
THE ATOMIC DUO – Broadsides (self released) (with Bad Livers co-founder Mark Rubin)
BRAND NEW STRINGS –Stay Tuned (Rural Rhythm)
SOLOMON BURKE –The Last Great Concert (Rockbeat) (double CD, recorded in Switzerland in 2008)
COWBOY JUNKIES – The Wilderness: Nomad Series, Vol. 4 (Latent/Razor & Tie)
CHUCK LEAVELL – Back To The Woods: A Tribute to Pioneers of BluesPiano (Evergreen Arts)
MADISON VIOLET – Good in Goodbye (True North)
PETER MULVEY – Good Stuff (Signature Sounds)
JOAN OSBORNE – Bring It On Home (Saguaro Road)
SONS OF BILL – Sirens (Spunk/Thirty Tigers)
SPECIAL CONSENSUS – Scratch Gravel Road (Compass)
ANDRA SUCHY – Little Heart(Red House)
Coming soon… DR. JOHN, KATE CAMPBELL, TIM CARROLL, THE VESPERS, TRAMPLED BY TURTLES, BONNIE RAITT, THE McEUEN SESSIONS … more new releases
Here's a link to this week's Americana Music Association Americana Airplay Chart
---