Americana Boogie Music Releases for the week of June 19 includes Chris Smither, Don Williams Stacey Earle/Mark Stuart & more
---
Here's the best Americana and roots-type music releases for the week of June 19th, 2012. Click the artist or album links to find out more. The artist's names link to their websites and the CD title links go either " target="_blank">Amazon or CD Baby for easy ordering. The Freight Train Boogie podcasts feature mostly songs from new Americana releases. Playlists with players and iTunes links are posted at FTBpodcasts.com.
STACEY EARLE & MARK STUART
Dedication  (Gearle)
Stacey Earle and Mark Stuart have been living and musicking together for nigh on twenty years, with an appetite for taking their songs out into the world that is pretty staggering. They reckon they average about 170 dates a year. Perhaps it's fitting, then, that the most immediately attractive song on this new collection is a road song, "Little Rock". Sung in a tone of minor key weariness, the refrain lists the far flung bits of the North American continent they trek to in their Chevy van (half a million miles or so, and counting), and, for all the weariness, the song just oozes happiness and affection for the life they've made for themselves. A lot of these songs feature an old piano that they were given, but whether it's guitars or piano at the heart of the tune, they have a McCartney-ish gift for building beautiful melodies from the simplest elements. These are songs about the ordinary mess of life, the ups and downs, the hard times and the fun times.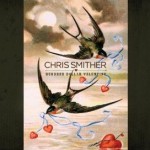 CHRIS SMITHER
Hundred Dollar Valentine  (Signature Sounds)
Smither's 12th studio disc, sports the unmistakable sound he's made his trademark: fingerpicked acoustic guitar and evocative sonic textures meshed with spare, brilliant songs, delivered in a bone-wise, hard-won voice. On Hundred Dollar Valentine, Chris Smither makes music that simultaneously breaks and fortifies one's heart. It's music that acknowledges that even as we are together, we are alone. This is music that stares into that absolute abyss and does not lie. This is music that locks its gaze with life and death and does not look away.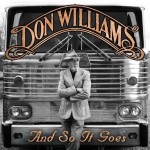 DON WILLIAMS
And So It Goes  (Sugar Hill)
Sugar Hill Records is both humbled and incredibly proud to release Don Williams first new album in 8 years. Don Williams' legions of fans across the globe have long been hoping, but likely not expecting to hear new recordings from him again. He has been pretty determined to spend most of his time on his Tennessee farm, quietly, with his family— and for over four decades, country music's "Gentle Giant" has been known for doing what he wants to do. So it's both exciting and a very welcome surprise to announce the release of the brand new Don Williams album And So It Goes. (from Sugar Hill Records)
Also new this week…
THE BACON BROTHERS – Philadelphia Road – The Best Of The Bacon Brothers (Hypertension)
VANCE GILBERT – Old White Men (Gadfly)
RACHEL HARRINGTON – Makin' Our House A Honkytonk (Skinny Dennis)
STEVE POLTZ – Noineen Noiny Noin (Arrival)
SETH WALKER – Time Can Change (Royal Potato)
Coming out soon… JERRY DOUGLAS, JON DEE GRAHAM, LITTLE FEAT, THE BLASTERS, RHONDA VINCENT … more new releases
Here's a link to this week's Americana Music Association Americana Airplay Chart
Bill Frater
Freight Train Boogie
---