Americana Boogie Music Releases for the week of July 3rd include The Blasters, Keller Williams, James Luther Dickinson & more…
---
KELLER WILLIAMS WITH THE TRAVELIN' McCOURYS
Pick (SCI Fidelity)
And as revered and successful each are in their own right, the collaboration delivers much more than either act alone. Keller's unconventional songwriting takes on unsuspecting weight when backed by The Travelin' McCourys, which consists of Jason Carter on fiddle, Alan Bartram on bass, Rob McCoury on banjo, and Ronnie McCoury on mandolin. Rob and Ronnie are the sons of bluegrass legend Del McCoury and all 4 are Del's backing band. Inspired by Keller's fearless creativity, The Travelin' McCourys flawless playing gets depth.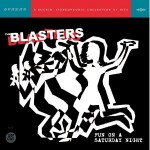 THE BLASTERS
Fun On Saturday Night (Rip Cat)
The first new Blasters release since 2005. This release has all the original members except for Keith Wyatt replacing Dave Alvin on guitar. The Blasters have included more blues on this release than any of their other previous releases, and still get some rockabilly, country, bluegrass and even mariachi songs in the mix. Phil Alvin sings a duet with Exene Cervenka on the Johnny and June Cash classic "Jackson". Phil recently had a health scare while on tour in Spain but is apparently on the mend and headed home. 
Here's the best Americana and roots-type music releases for the week of July 3rd, from Americana Boogie. Click the artist or album links to find out more. The artist's names link to their websites and the CD title links go either " target="_blank">Amazon or CD Baby for easy ordering. The Freight Train Boogie podcasts feature mostly songs from new Americana releases. Playlists with players and iTunes links are posted at FTBpodcasts.com. 
Also new this week…
JAMES LUTHER DICKINSON & NORTH MISSISSIPPI ALLSTARS – I'm Just Dead I'm Not Gone  (Memphis Int'l)
RICK ESTRIN & THE NIGHTCATS – One Wrong Turn (Alligator) 
Coming out soon… CHATHAM COUNTY LINE, RHONDA VINCENT, HANK WILLIAMS JR., JON DEE GRAHAM, OLD CROW MEDICINE SHOW… more new releases
Here's a link to this week's Americana Music Association Americana Airplay Chart
Bill Frater
Freight Train Boogie
---