Americana Boogie music releases for the week of Dec. 3rd… Johnny Cash, John Hartford sets, Nanci Griffith tribute..
Posted On December 5, 2012
---
JOHNNY CASH
The Complete Columbia Album Collection  (Columbia Legacy)
The title is no joke, this is essentially his recorded career from his years on Columbia. With a whopping 63 CD's, I know sets like this seem imposing, if not ridiculous, but if approached right it can be more like a college course with CD's instead of tests. (Village Records)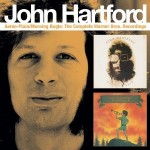 JOHN HARTFORD
Aereo-Plain / Morning Bugle:The Complete Warner Brothers Recordings   (Real Gone Music)
For 1971's Aereo-Plain, Hartford assembled a veritable supergroup consisting of fiddler Vassar Clements, dobroist Tut Taylor, guitarist Norman Blake and bassist Randy Scruggs to play a set of mostly original tunes that were unlike anything the staid bluegrass community had ever heard before. Fresh, irreverent, funny and played by an absolutely scintillating band, the songs on Aereo-Plain pointed to a new stylistic direction for bluegrass, one quickly coined "newgrass;" as Sam Bush of the New Grass Revival says, "Without Aereo-Plain, there would be no 'newgrass' music." 1972's Morning Bugle sported a stripped-down line-up of Hartford, Blake and famed jazz bassist Dave Holland. Songs like "Nobody Eats at Linebaugh's Anymore" and "Old Joe Clark" continued Hartford's novel fusion of hippie ethos and bluegrass tropes, and the musicianship was, needless to say, sublime, often completing each song in one take. Now, Real Gone Music is proud to announce the release of Aereo-Plain/Morning Bugle the Complete Warner Bros. Recordings, a two-CD, 35-track set that devotes a CD to each of these landmark albums and tacks on four unreleased tracks from each album session for a total of eight unreleased tracks!
Various Artists
Trouble In The Fields : An Artist's Tribute To Nanci Griffith  (Paradiddle)
This CD features 14 Nanci Griffith compositions, some familiar, some not, performed by an eclectic array of artists. From 60's folk revivalists, John Stewart,Jerry Jeff Walker and Carolyn Hester, to contemporary folk rockers, The Kennedys, every song, is imbued with the individual style and personality of each artist.
Coming out soon… BUDDY MILLER AND JIM LAUDERDALE, HOT TUNA, JEFF BLACK, CARRIE RODRIGUEZ … more new releases
Here are the best Americana and roots-type music releases for the week of December 3rd, 2012 from Americana Boogie. New releases are starting to slow down to a trickle as always happens this time of year. Click the artist or album links to find out more. The artist's names link to their websites and the CD title links go either " target="_blank">Amazonor CD Baby for easy ordering. Also check out the Freight Train Boogie podcasts featuring mostly songs from new Americana releases. Playlists with players and iTunes links are posted at FTBpodcasts.com.

Here's a link to this week's Americana Music Association Americana Airplay Chart
Bill Frater
Freight Train Boogie
---