Americana Boogie Music Releases for the week of August 21st include The Kennedys, Ry Cooder, Derek Hoke, Kelly Joe Phelps and others…
Posted On August 21, 2012
---
Here's the best Americana and roots-type music releases for the week of August 21st, 2012 from Americana Boogie. Click the artist or album links to find out more. The artist's names link to their websites and the CD title links go either " target="_blank">Amazon or CD Baby for easy ordering. The Freight Train Boogie podcasts feature mostly songs from new Americana releases. Playlists with players and iTunes links are posted at FTBpodcasts.com.
RY COODER
Election Special ( Perro Verde/Nonesuch)
Just in time for the election Cooder decides to weigh in with some humorous and sly observations about the state of politics today. As is the case with political satire you walk a fine line and have to use some slight of hand to make it work effectively. Have no fear, Cooder Derek Hokeknows exactly what he's doing.Now if the politicians had any idea what they were doing…. (Village Records)
"What I'm trying to do with these little songs I write is say: let's look at this a different way. I don't write books and give speeches but with a four-minute song you can use allegory and other means to suggest a different point of view," says Cooder. "Music is the way that I know. It's the thing I have."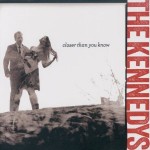 THE KENNEDYS
Closer Than You Know  (Planned Effervescence)
In a career that now spans two decades, New York duo Maura and Pete Kennedy have traversed a broad musical landscape, surveying power pop, acoustic folk, and Byrds-inspired jangle rock. This time, they strike out into new territory, inspired by a sojourn in Paris, where they immersed themselves in the turn of another century. In the spirit of Paris-trained composer Burt Bacharach and his lyricist partner Hal David, Pete took on the task of creating musical landscapes that would cushion Maura's lyrics and bell-like harmonies.
Also new this week…
RONNY ELLIOTT – I've Been Meaning To Write (self released)
JEFF FINLIN – Live Songs For The Ice Age  (Bent Wheel)
DEREK HOKE – Waiting All Night  (Electric Western/Thirty Tigers)
TERESA JAMES & THE RHYTHM TRAMPS – Come On Home  (Jesi-Lu)
TAJ MAHAL – Hidden Treasures of Taj Mahal 1969-1973  (Legacy)
IMELDA MAY – More Mayhem  (Decca)
KELLY JOE PHELPS – Brother Sinner & The Whale  (Black Hen Music)
Coming out soon… THE FLATLANDERS, ROBERT CRAY, AMY COOK, MALCOLM HOLCOMBE, CAT POWER, JERRY JEFF WALKER, THE AVETT BROTHERS, BOB DYLAN, CALEXICO … more new releases
Here's a link to this week's Americana Music Association http://www.americanaradio.org/" target="_blank">Americana Airplay Chart
Bill Frater
Freight Train Boogie
---