Americana Boogie Jan. 21st… Ray Benson, Hard Working Americans, Rev. Horton Heat
Posted On January 22, 2014
---
RAY BENSON
A Little Piece (Bismeaux)
For his first solo album in more than a decade, Asleep At The Wheel main man Ray Benson went into the project with a simple mission: To break out from his band, and to try out a few different things. And he had just the right material for it, a highly personal collection of songs, which makes this very possibly the most personal album of Ray's 45-year career. And it has as tasteful a guest list as you'd expect, including Willie Nelson as duet partner on one track. Members of Austin newgrass band Milkdrive and Latino rockers Del Castillo also show up in cameo roles. Ray co-produced the album himself, aided and abetted by his son Sam Lightning Seifert and Lloyd Maines.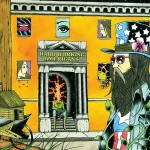 HARD WORKING AMERICANS
Hard Working Americans (Melvin/Thirty Tigers)
Debut album from this 'supergroup' consisting of Todd Snider (vocals), Dave Schools of Widespread Panic (bass), Neal Casal of Chris Robinson Brotherhood (guitars/vox), Chad Staehly of Great American Taxi (keys) and Duane Trucks of King Lincoln and of the Trucks family lineage (drums). Hard Working Americans features songs written by a range of artists that include Randy Newman, Lucinda Williams, Kevin Gordon, Hayes Carll, Kevn Kinney (Drivin' `N Cryin'), Gillian Welch, Brian Henneman (Bottle Rockets), Will Kimbrough, Tommy Womack, Frankie Miller and others. The album recorded at Bob Weir's TRI Studios is San Rafael, CA.
Also new this week…
BLUE HIGHWAY – The Game (Rounder)
JIM CAMPILONGO – Dream Dictionary (Blue Hen)
SUSAN CATTANEO – Haunted Heart (Jersey Girl Music)
TOMMY CASTRO & THE PAINKILLERS – The Devil You Know (Alligator)
JASON EADY – Daylight and Dark (Old Guitar)
REVEREND HORTON HEAT – Rev (Victory)
KEN WILL MORTON – Slow Burn (Rara Avis)
DOUG PAISLEY – Strong Feelings (No Quarter)
RYAN VANDORDRECHT – Beast Of Love (self)
Coming out soon… DAVID CROSBY, RHONDA VINCENT, MOLLIE O"BRIEN & RICH MOORE, LAURA CANTRELL, ANGELA PERLEY & THE HOWLIN' MOONS, THE FAREWELL DRIFTERS, LYDIA LOVELESS, ROD PICOTT, ROBERT ELLIS, AMY BLACK … more new releases
. Here's a link to this week's Americana Music Association Americana Airplay Chart.
Bill Frater
Freight Train Boogie
---