Americana Boogie: Clay McClinton, Suzy Bogguss, David Wilcox, The Far West
Posted On February 26, 2014
---
SUZY BOGGUSS
Lucky (Loyal Dutchess)
Suzy Bogguss didn't set out to craft a Merle Haggard tribute record. Some might call that serendipity; she just calls it Lucky. Bogguss and her husband/co-producer Doug Crider were combing through songs to consider for her next project. Never one to hew to a particular style, Bogguss kept coming back to a set of songs that spoke to her…and they just happened to be by Haggard. "He really is the poet of the common man," says Bogguss, "Not every artist has music that is as universal as Merle's. It's pretty heavy-duty stuff, and I think that's why to so many of us who sing and write songs, he's such a king among us."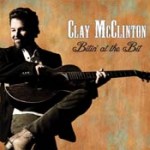 CLAY McCLINTON
Bitin' at the Bit (Red Chile)
Texan Clay McClinton not only pays homage to his musical influences, including dad Delbert, he actually involves several in the project. Longtime Delbert collaborator Gary Nicholson produced, and co-wrote what the younger McClinton says are some of the best songs of his career. Dad and legend Bruce Channel (Hey Baby) also pulled out their pens, and the McClintons duet on Delbert's "Victim of Life's Circumstances." Clay also recorded the Nicholson-Stephen Bruton song, "What a Little Love Can Do", and Mickey Newbury's classic "Just Dropped In (To See What Condition My Condition Was In)." On these 12 tracks, McClinton mixes his blues, country, rock and soul influences into a gumbo of great grooves.
Also new this week…
THE FAR WEST – Any Day Now (Medina Rover)
FLACO JIMENEZ AND MAX BACA – Flace & Max: Legends & Legacies (Smithsonian/Folkways)
DANNI NICHOLLS – Little Redemption (Transmission)
THE SEA THE SEA – Love We Are We Love (self released)
JOE LEWIS WALKER – Hornet's Nest (Alligator)
DAVID WILCOX –Blaze (What Are Records)
Coming out soon… DRIVE-BY TRUCKERS, CHUCK MEAD, JOHN GORKA, STEVE MARTIN & EDIE BRICKELL, ELIZA GILKYSON … more new releases
.
Here's all of the Americana and roots-type music releases for the week of February 25th, 2014. Click the artist or album links to find out more. The artist's names link to their websites and the CD title links go either " target="_blank">Amazon or CD Baby for easy ordering.
Here's a link to this week's Americana Music Association Americana Airplay Chart
Bill Frater
Freight Train Boogie
---