Americana Boogie: Carlene Carter, Steve Dawson, Joan Osborne
---
CARLENE CARTER
Carter Girl (Rounder)
This the first album of new recordings this decade from Carlene, it is, in a very literal way, Carlene's personal homage to the Carter Family legacy that both underpins so much of America's music and is part of her own DNA. The album revisits both classic Carter Family repertoire as well as original songs that reflect Carlene's direct connection to her roots. Musicians on the sessions included Jim Keltner, Rami Jaffee, Greg Leisz, Sam Bush, Mickey Raphael, Blake Mills as well as producer Don Was on bass. Willie Nelson, Vince Gill, Elizabeth Cook and Kris Kristofferson help on on vocals. The guitar of the late Cowboy Jack Clement is heard on "I Ain't Gonna Work Tomorrow" and there are vocal contributions from generations past — Carlene's aunts Helen and Anita Carter as well as her mom, June Carter Cash and Johnny Cash on the chorus of I Ain't Gonna Work Tomorrow– that make Carter Girl an evocative collection, bringing music history to life for contemporary listeners.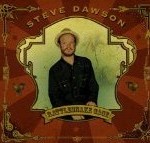 STEVE DAWSON
Rattlesnake Cage   (Black Hen)
This is the record that Steve Dawson's growing number of fans have been waiting for. Rattlesnake Cage finally gives them the opportunity to hear Steve interact with his guitar in a way that has never been captured on record before. These new simple and unadorned recordings hearken back to the "American Primitive" sound that John Fahey and other artists such as Peter Lang and Leo Kottke recorded on Fahey's iconic Takoma record label in the sixties-instrumental music informed by the deep traditions of blues, ragtime, jazz, and even Hawaiian music, but taking those influences in unexpected directions.
Also new this week…
MARTINA McBRIDE – Everlasting (Alliance)
JOAN OSBORNE – Love and Hate (Entertainment One)
Coming out soon… BOBBY BARE JR., RODNEY CROWELL, MOOT DAVIS, THE SECRET SISTERS, BLACK PRAIRIE, RAY BONNEVILLE, KEB' MO', JUSTIN RUTLEDGE, THE MAGNOLIA SISTERS, THE SELDOM SCENE, JEFFREY HALFORD & THE HEALERS, THE OLD 97'S, BRIGITTE DEMEYER, THE HOWLIN' BROTHERS, TOMMY MALONE, ZOE MUTH … more new releases
. Here's a link to this week's Americana Music Association Americana Airplay Chart
Bill Frater
Freight Train Boogie
---