Alison Krauss on Daydreams, Tony Rice, and the Road to the Bluegrass Hall of Fame
Posted On September 29, 2021
---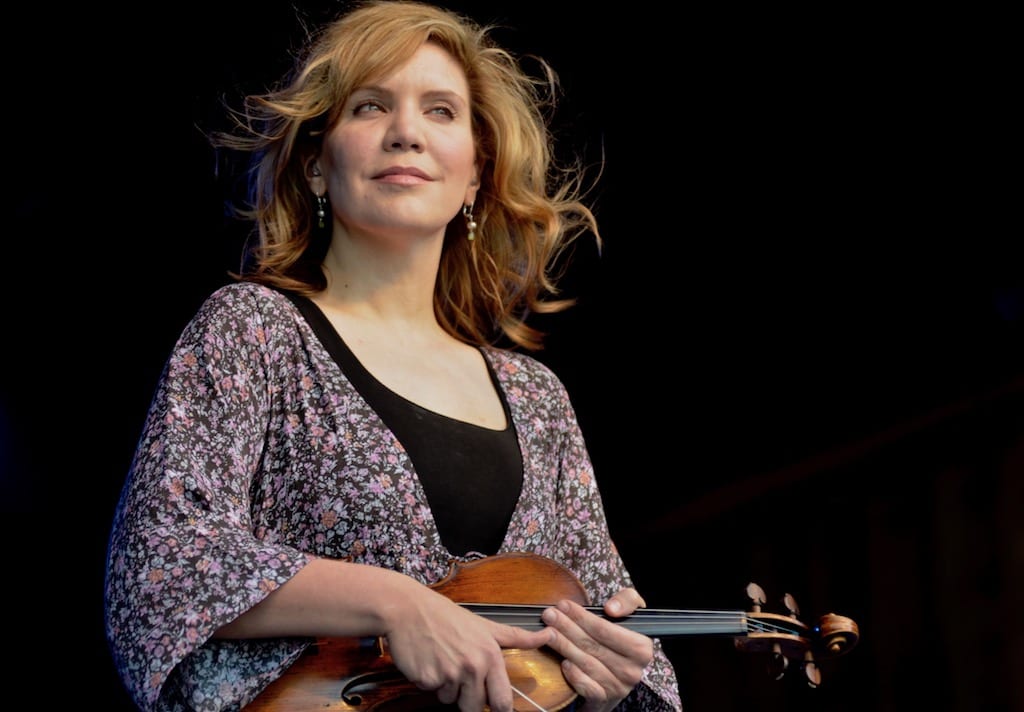 Alison Krauss - MerleFest 2012 - Photo by Amos Perrine
The only surprise when Alison Krauss was announced among the 2021 inductees to the Bluegrass Hall of Fame was that she wasn't already in.
So many women who play or just love the music got into it because of Krauss, who began leading bands barely into her teen years and has fronted Alison Krauss & Union Station, released solo records, and collaborated across genres ever since. And folks of any gender, in bluegrass and far beyond, have fallen in love with her ethereal voice, dazzling fiddle playing, and knack for picking just the right songs.
But Krauss herself was surprised, she says, and deeply honored.
"I couldn't believe it," she recalls of hearing the news of her selection for bluegrass' biggest honor. "It's just crazy. It's your entire world, what makes up the cells in your body."
It's also a nice bright spot after a tough year that saw an entire tour scrapped by the pandemic and the death of her friend Tony Rice.
"His music was what created my daydreams about music as a kid and through my life," she says. "And it was something that never, ever changed for me, that example, that excellence."
The admiration was clearly mutual: At Rice's own Bluegrass Hall of Fame induction in 2013, he noted that Krauss had recently been struggling with dysphonia, a vocal disorder that had rendered his own voice raspy for years, and shocked the audience by speaking in his "real voice" for several minutes that felt like a miracle.
"I want to be able to tell Alison that now I am speaking in my real voice," he told the audience. "I figure if maybe I can keep this up, that one day again maybe I'll be able to do what I have missed at times, for 19 years now, which is to express myself poetically through music."
Rice was never able to return to singing, but Krauss' voice soon returned to full power with help from her vocal coach and some better stress management.
"It's so crazy because when that started to happen, I thought, 'This is what happened to Tony,'" she recalls. "So if it weren't for him, I wouldn't have known what was happening."
Because of concerns about traveling during the current resurgence in COVID-19 cases, Krauss decided not to travel to Raleigh, North Carolina, for her own Hall of Fame induction, which will take place Thursday during the International Bluegrass Music Association's annual awards show. But she hoped to participate remotely in some way, and she knew just who she wanted to introduce her for that honor.
Krauss first met multi-instrumentalist and songwriter John Pennell at a fiddle contest when she was 9, and within a few years she joined his band, Union Station. On drives to gigs, he would play her songs by Tony Rice, The Stanley Brothers, and others.
"He was really my mentor, that's the best way I could explain it," she says. "He was the first [among] people that really make a mark on your life outside of your parents. He'd come over every day after school and play me stuff. And he played us songs that were half finished and go, 'Hey, Al, sing this.' So I'd sing a song half done, and then he'd go finish it. And that was very special. … And he was such a passionate person about listening and talking about those things. I don't know if I would have played music without John. I just don't know if I would've done it."
For her part of the induction ceremony, she plans to talk about people like Pennell, her Union Station bandmates, her longtime manager Denise Stiff, her team at Rounder Records, and others who have supported her in her career.
"My favorite memories of my whole life came out of those people," she says. "It's a sad time that no one can really be together. To be honored like that from where you came from, I don't know a more special event for me."
More to Come
A Hall of Fame induction can feel like the capstone of a career, and in many cases, it's a pat on the back for a job well done when the job is, more or less, over.
But Krauss, who turned 50 in July, has plenty of work on the horizon, including a new album with Robert Plant, Raise the Roof, coming in November.
A follow-up to 2007's Grammy-winning Raising Sand, Raise the Roof once again was produced by T Bone Burnett and pairs the powerhouse singers on carefully selected covers plus one original, written by Plant and Burnett.
Krauss and Plant had talked about a second album over the years, but there was never a firm plan or timetable for it, she says.
"Things are all about the right timing," Krauss explains. "How I see it, things have to be inspired, and they don't work when they're contrived. And so I think that if we were supposed to go and make another one prior to this, then it would have already happened. … We've passed songs back and forth through the years, too. And I didn't have the feeling when I heard any of them, it didn't feel inevitable. But when he had sent me this last bunch of songs that he was looking at, when I heard those, I'm like, 'Oh, OK, well, I guess we're going back in,' it's a familiar feeling."
That sense of inevitability has been a guidepost throughout Krauss' career, built on interpreting and inhabiting songs, rather than writing them herself. There's no painstaking process for choosing what songs she'll record and perform, she says. Rather, "you see it."
"It makes you daydream immediately," she says. "It's spontaneous. It's not where you have to think of what something is. It just shows up."
These songs, and the daydreams they inspire in Krauss and all who listen, have roamed freely across genres, time periods, and themes, but it's bluegrass she considers home, and bluegrass she always comes back to, even as her music is embraced by a much wider musical world.
"I don't feel like I ever left it," she says. "I always felt like I brought it with me. That's what I grew up on. That's the stuff that I listen to, you know, when I really want to go nuts. I gotta have 'Big Spike Hammer,' you know?
"Most people that I know that grew up in bluegrass, they all feel like they were born in the wrong era," she continues. "People who love traditional music, they long for the past more so than they long for what's coming. They're fascinated by the past. And I'm one of those people."
When she does look to the future, though, Krauss is eager to return to touring, to sharing her music with fans and with bandmates.
"It's definitely taken a different spot in my mind than it had," she says, adding that she's talked frequently with longtime Union Station bandmates Ron Block and Barry Bales about their past and, hopefully, future tours. "I always loved it and have been proud of it, but [now] being proud of what we did together and appreciating it and being so grateful for the chance to do it together. When you take the certain things that make it hard to do it together away, whether it's the traveling or mishaps on the road or whatever, take all those away and you just go, 'Oh my gosh, what a gift it has been to play together.' And so my hope is to be able to do that again."
---