Alison Brown and Unbound Tradition
Posted On August 17, 2016
---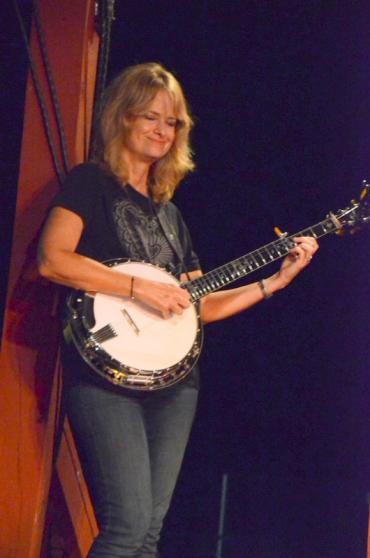 Alison Brown leans against a post at the back of the stage noodling on her banjo as the electric keyboard and full drum kit are placed onstage for the final show of Friday night. I sit down in my seat, and the man next to me mumbles something about drums on the stage at a bluegrass festival. Behind me I hear "A piano!" A few people fold their chairs and head back to their campers, off to meet the others in their appointed jam, or head for their cars in the day lot. Most, however, stay.
The day was lively and varied, ranging from the primitive pre-bluegrass of the South Carolina Broadcasters, through the son of Hall of Fame banjo great Don Reno with his band Ronnie Reno & the Reno Tradition featuring Mike Scott, who played for years with Jim and Jesse McReynolds — two more Hall of Famers. There was Sideline, a new band of mostly traditional musicians who came together to pick during the off-season, and have just picked up a tour bus. The Alison Brown Band closed for Friday night.
Born in Connecticut, Brown grew up in the bluegrass-rich, progressive environment of Southern California, where she connected with fiddler Stuart Duncan for her early release, Pre-Sequel, in 1981. Here's that album, in its entirety:
Alison Brown moved east for college, where she attended that famous nurturing ground of bluegrass musicians, Harvard University, before returning to her native California to earn an MBA at UCLA and begin a career in investment banking at Smith Barney.
This all sounds pretty straightforward for a young prodigy who couldn't get the banjo out of her head.
While in New England, she performed with the storied progressive bluegrass band Northern Lights for a couple of years before returning to the West Coast for graduate school. She remained in investment banking for two years before the attraction of music-making overcame convention. Soon she was touring as a guitarist with Alison Krauss & Union Station.
Brown's career is a great example of what happens when brains, talent, and a questing artistic spirit join with an entrepreneurial instinct in one person … or perhaps two, as she and husband/business partner Garry West are clearly a team. Brown's liquid-like banjo work uses the entire fretboard in careful conjunction with the other instruments in her band to create pictures and stories, combining bluegrass, jazz, pop, world music and more. With her solid grounding in bluegrass music along and her clear mastery of the dimensions and possibilities of her instrument, Brown's skills employ the full range that this often underestimated, even maligned instrument can achieve.
Podunk is a word of Algonquin origin applied to a small Indian village near East Hartford, Connecticut, where the Podunk Festival got its start. The word has been generalized to signify a small, dull, town of little interest or significance — a strange name for a festival that was named IBMA Event of the Year in 2010. Podunk has a reputation for bringing together a far-reaching, thoughtfully conceived music program that always represents traditional bluegrass while suggesting the directions training and experience can lead artists. The annual $50,000 Steve Martin Prize for Excellence in Banjo and Bluegrass attests to this range and variety. Winners have included Noam Pikelny, Sammy Shelor, Jens Kruger, Mark Johnson, Eddie Adcock, and Danny Barnes. Brown sits on the board that chooses recipients, making her ineligible to win.
Meanwhile, the Podunk Bluegrass Festival, with Roger Moss as executive director, continues to offer one of the most creative combinations of lineup, workshops, meet & greets, contests, and seminars of any small festival we've seen.
Compass Records, founded by Brown and West in 1995, has emerged as one of the high-prestige independent record labels with artists in Celtic folk, jazz, and, of course, bluegrass. Prominent bluegrass bands currently recording for Compass include Special Consensus, the Claire Lynch Band, the Infamous Stringdusters, Rob Ickes & Trey Hensley, Frank Solivan & Dirty Kitchen, Michael Cleveland, and more. The label has also established itself as one of the premier outlets of Celtic and Irish music through its own recordings and acquisitions of several other labels.
The prominence of labels like Compass and performers like Alison Brown — and many of the artists who record for them — suggests the nature of art within the development of bluegrass. Artists are incapable of not following their muse into new endeavors and interpretations of what they hear in their heads and hearts. There's risk and anxiety involved with the quest to truly express the inner self in music, as is true of any other creative endeavor. Such courage also requires strength to rebound from the inevitable failures, to get it the way you hear it in your inner ear. Words like "progressive" and "traditional" or names of genres like bluegrass, country, or Americana have little meaning in the face of making music as an art form.
---