Alejandro Escovdeo: New Music, New Politics, Punk Roots
---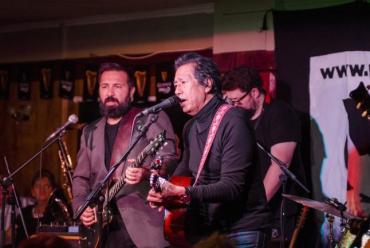 Alejandro Escovedo – punk–alt country-roots rocker, writer, legend – started out in the worst band in the world.
Way back in his teens, he and his friends made a film. "The Worst Band in the World was like the way Spinal Tap was made I guess; a mockumentary." He was laughing at the memory as he cast his mind back to his teenage self. "We were trying to make a documentary about the worst band in the world, also believing that rock and roll can only truly be played by adolescents … It was all about this character getting older and wondering where he would end up, so he ended up with the worst band in the world … The old person in the video, who was getting older, was like 19 years old."
Now several decades older than that old guy in the film, Escovedo has a lifetime of history making experience that should just about pass muster with the young man who made that video. His punk band The Nuns supported the Sex Pistols at their final show at Winterland in San Francisco in '78. The '80's saw the punk in Escovedo meld with his new base in Austin Texas, with innovative alt-country punk band Rank and File, and after that, the tight guitar rock and punk based True Believers. It wasn't until 1992 that he brought out his first solo album Gravity. A vast collection of albums have followed since, and he released his latest, Burn Something Beautiful last year.
Those original punk years still hold sway with him though, and as we talked about how important punk was in our two distinct parts of the planet (The US and Northern Ireland) the politics and the issues of the day, and today, formed the basis of the conversation.
"I must say that for us it was more about not being able to hear the kind of music that we loved on the radio or at the clubs," he started. "Our revolution was more about where the industry was taking us, and it was to do with where the government was taking us too." That was the 80's, the Reagan/Thatcher years; we laugh slightly how we could almost look back on those times with nostalgia from the standpoint of 2017.
"It's so ridiculous" he opens up. "As a citizen of the United States it's very frightening in a way that I've never felt before. I don't know if that is partially due to where I am as a person. [Whether it's] my age, or concern for others like my children and my grandchildren and wanting them to have a better world. But it feels like we are slipping into a world that I thought we had surpassed, that we had got past. And now it is like quicksand and we are being sucked down into the vortex of complete insanity."
"It's interesting in this political climate in America, and globally, that so many women are making themselves heard. There is so much opposition from male-dominated systems, whether they be government systems or social systems, whatever they are … In the anti-Trump movement in America, a very intense and vital part of it is women. I must say Hillary Clinton wasn't my ideal candidate, but I thought that the idea of a woman running the country would have been very healthy. Not just for us but for the world. And it's a great disappointment."
Alejandro Escovedo was born of Mexican immigrants to Texas. His father was a Mariachi musician, and Escovedo and his brothers were heavily involved in music through various bands. (His brother Pete played in Santana for example, and the bug was passed to the next generation with his niece, Sheila E, who worked solo and with the likes of Prince and Marvin Gaye). "We used to sing around the house a lot and I would do an Elvis impression when I was a little boy" he remembered. "But there was always singing in there. All these records. There was always a lot of music in the house."
And it was those records that created the foundation for a lifetime in music. "You know it all started with a really large record collection" he said with the tone of voice that goes with harking back into the past. "It had so many different types of music. I learnt about Latin music and Jazz from my brothers. My father loved Mexican music and cowboy music, he thought of himself as a crooner. Then my cousin Gloria, who used to care for me sometimes, she loved-loved-loved rock and roll like The Big Bopper, and Elvis, and Jerry Lee, so I got that from her. Then as I started to play I was really into the Stooges, and the Velvet Underground and Mott the Hoople, David Bowie, T Rex, Roxy Music. It just kind of developed over the years as I got better on guitar, and then I became more of a songwriter. All these different things kind of started to come through in one way or another."
However, before he started playing guitar in his twenties, he was writing. "I was writing a lot. I would write short stories and treatments for films, and little screenplays, and things like that." He is presently working on a book and intends to dedicate next year to this particular project. "It's what I would call a mythical Memoir" he explained, "so it is going to be the truth but it is going to be fuzzy around the edges. There will be a lot of magical realism and dreamlike sequences in the book, but it will also tell my story about my love for music and the life that I have led. How music led me in the direction that it did."
With all of the sweet spots of a rock and roll life though, that direction has not been easy. In 2003 he was diagnosed with Hepatitis C, after collapsing at the end of a performance in Arizona. "It's a chronic disease that will eventually kill you, you know … at that time they really didn't have any options for me. I was told that I would have a year to live. And so then that began the process of figuring out what I was going to do."
Again, this was another example of finding the good and the strength in people. Escovedo's treatment was incredibly expensive and his access to it was only made possible through friends in the music world such as Lucinda Williams, Calexico and Steve Earle, who came together and ultimately recorded Por Vida, a double CD of their versions of Alejandro Escovedo songs.
Needless to say, it is a gesture he does not take lightly, and he is fully aware that others in his position would not have had that sort of support. "If I had not been who I was, and if I had not been fortunate enough to have so many friends who cared about me, we wouldn't have this interview right now," he told me bluntly. "I would have died from that disease. I would not have been able to find the help. And there are millions of people like me. And there are millions of people out there who are afraid to come forward and say 'I have this' and be tested because [they are scared] of the repercussions. Especially now with deportation."
"You have a lot of people here, as they say, illegally, who won't go to the doctor. That whole painting the picture that immigrants are bleeding our country is complete bullshit because most immigrants who are here work. And they are keeping this country moving forward through agriculture and all of the jobs that they do. They spend their money in stores here so they pay state taxes that are going completely to other people, and they are not taking advantage of it because they are afraid to go get social security, they are afraid to go get Medicare, they are afraid to go get food stamps. They don't do that. That is a fallacy. This country is making dollars off immigrants who are investing more money in state taxes. These politicians are completely out of their minds."
His own family background keeps Escovedo fully aware of the myriad issues that immigrants in the US need to wrestle with, but this is just one element to the man, and other experience has given him the capacity and insight to reach out to others. Austin based singer-songwriter Jeremy Nail's 2016 album My Mountain was produced by Escovedo. Written around his battle with, and ultimate victory over cancer, the album's folk-rock-country puts Nail's important voice first, buoyed by the guitars and steered by a man who knows well the impact of serious illness.
I read out to Escovedo what Nail had told me about him last year. "It means the world to me to have had his guidance and support. We connected on many levels, not only as artists, but as people who have dealt with serious loss and health struggles. Having someone you look up to, to lift you up like that, it's a great blessing. He made me feel comfortable and confident that I could do this in a way that would do the same for others. I owe a lot to him." There was a pause before Escovedo answered. "That was a very very special record to make," he finally said. "You know I've only really produced a couple of records in my life. I love that Jeremy's record was something that had so much weight to it. It wasn't just like we were making a record; we were making a statement about survival, and about faith, and determination, and really just what the fuck it takes to survive adversity like that."
Another artist on whom Escovedo has had an enormous impact is fiddler/singer-songwriter Carrie Rodriguez (daughter of Texan singer-songwriter David Rodriguez). She said of Escovedo "I've toured with him and he would push me to jump off the cliff musically. I'd be giving a fiddle solo and he'd get up in my face and he'd say, 'I don't want to hear this fiddle country thing, I want you to sing bar talk. And go crazy.' And then he'd get in my face and demand it. It was great."
"I love Carrie" he laughed when I called him a hard task master. "In a loving, loving way! She is just so talented. What I wanted from her was for her to dig so deep inside herself that she almost got lost in the music in order to find herself. I think that sometimes you just have to jump off that cliff in order to find ways to survive. So I think with her and all of the musicians I play with I push them to be more than they are."
Escovedo appreciates the workings of a good producer, it is something he would know having worked with producers like Tony Visconti (Marc Bolan, David Bowie), Chris Stamey (Ryan Adams), John Cale of The Velvet Underground, and more. "When people have produced my records, and I have worked with amazing producers, every one of them was an incredible experience but they have all pushed me in that way. They have found things in me that I didn't even know existed. It wasn't always easy sometimes as you have to face things about yourself that are very difficult. Sometimes they were personal hurdles that you had to jump over, or technical things, or limitations in your ability, or the ability that you had placed on yourself."
His latest album, Burn Something Beautiful, is his first in four years and was a co-production with Peter Buck of R.E.M. and Scott McCaughey of the Minus 5. "I always want to experience more so [working with different people] keeps it fresh for me and it keeps it fresh for the musicians that I play with … But I really give them the credit" he said of working with Buck and McCaughey. For this album he uprooted from home in Dallas to record the record in Portland. "I knew that I couldn't make that record in Texas. I just felt that I needed some place that was completely different with a different kind of sound. The Portland sound is very unique, it has its own way of expressing itself. I wanted that, I wanted them to give me that."
Burn Something Beautiful is an album of strange fates. Escovedo is settled and happy, with a new wife and all of the future that promises. Conversely though he is witnessing a seismic unsettling of his country, which has inclined him to dedicate the album to his parents, and "immigrants who have made this country so great." He has come out the other end of a near-twenty year battle with Hepatitis C, but recently started living with the distress of PTSD after encountering a hurricane while on honeymoon.
Take for example "I Don't Want to Play Guitar Anymore" which refers back to the dark times of his illness and the heavy toll it took on him as a musician. Leaving him with the sense that music was to blame for the situation, this ultimately led to a year of barely playing his guitar.
"And I wonder why I don't even want to play guitar anymore.
If there's no stories left to sing, that's the end of everything."
"That song was brought to us by Peter Buck" Escovedo explained. "Peter went through a dark period after R.E.M. … he was trying to figure out how to live a life that wasn't an R.E.M life. Can you imagine if you are in one of the largest rock and roll bands in the world and then suddenly you are a civilian … You have to figure out who you are when you are not Peter Buck the rock star, or Alejandro Escovedo the rock star … that's what happened to me when I got sick. The possibility of not being able to do it again causes lot of questions about who are you … There is a lot of identity and searching for who you truly are."
"Beauty of Your Smile" on the other hand is a parallel between the survival of love and beauty and a troubling dystopia. It was written for his wife who had become lost one evening in an area called the Tenderloin in San Francisco, and had ended up being followed. Though she was resourceful enough to keep the men at bay and finally grab a taxi, the experience was upsetting and proved to aggravate the PTSD she was already suffering from. "[The song] is all about creating a world that is apocalyptic" explained Escovedo. "About how nature and beauty survive all of the abuse given to them. I remember walking through parts of New Jersey that had been abandoned. They were horrible, there was asphalt everywhere. Yet breaking through all this was a lovely small flower. It was like beauty always manages to reclaim itself, and it was that kind of vibe that I wanted to talk about."
Last month, Alejandro Escovedo toured Ireland on his Burn Something Beautiful 2016-2017 tour with support from 'Don Antonio, a project featuring members of Sacri Cuori who have backed the likes of Richard Buckner, Howe Gelb, Dan Stuart (Green on Red) and Robyn Hitchcock.' Belfast's Errigle Inn was on the itinerary.
Alejandro Escovedo laughed into the microphone at the sound of a glass hitting the deck. "There we go! The party's started – it sounds like Texas."
He was on stage in Errigle Inn on the Irish leg of his Burn Something Beautiful 2016-2017 Tour. Flanked by his touring compatriots Don Antonio from Italy, Escovedo was playing on a stage low enough and close enough to his audience to allow the performers to hear what was happening on the floor. At quiet gigs in the Errigle you can hear the ice being tossed into glasses, back at the bar. This wasn't a quiet gig though. This was rock, and bass, and drums. It was sax, and maybe some sort of synth? It was ballsy, loud, all boys on stage. It was rock and roll.
Support act Don Antonio is the brainchild of Antonio Gramentieri of the band Sacri Cuori. "Adriatic Twang" the Cuori's would describe themselves. "Retrofuturismo, Romantic Italian Music from the next Golden Age, Same Old Blues." Then add on Don Antonio's take on their own bespoke genre – "Soundtracks for the new Mediterraneans," and you get an idea of the melting pot that was steaming on stage the other night at the Errigle. Americana and all its musical styles washed through with cultures and languages and attitudes from the US, from Italy, from Escovedo's Mexico. Hispanic coated punk, Adriatic boogie woogie, rhythm and blues swagger and the spontaneous joy of the best playing with the best. And it was a few feet away from where I was standing.
Take the first sultry offering, 'Can't Make Me Run.' The growing drum brought us in with gradual volume, and the street-urban drive-by menace grew with the bass appearing, then breathing, then appearing again. Siren guitar was warning enough of what was unfolding as the long lead-in finally started to explain itself with Escovedo's words. "Who really cares about tomorrow?" he was asking. "Who really cares about today?" It was of course guitar grounded, but the saxophone, courtesy of Don Antonio's Francesco Valtieri ,upped the humid, muggy, grimy pall, creating the framework in which asking "Who really cares about today?" is a feasible proposition.
Escovedo and Gramentieri would play off against each other regularly throughout the night. Facing each other, standing sideways to the crowd, injecting the show with the afore mentioned swagger. It would shift from raucous to growling, from momentary to a stretched focus on the task in hand. All of them highlighting the talent on stage, adding a nice touch of rock and roll bluster.
In an interview last month he said, "As I started to play I was really into the Stooges, and the Velvet Underground and Mott the Hoople, David Bowie, T Rex, Roxy Music. It just kind of developed over the years as I got better on guitar, and then I became more of a songwriter. All these different things kind of started to come through in one way or another." As they played on stage in Belfast and moved seamlessly from 'Can't Make Me Run' to 'Shave The Cat' off his most recent album, Burn Something Beautiful, a gorgeous 70s, T Rex crunch filled the room, and the show shifted officially from good start, to electric. All bets were off.
I was sometimes slightly shocked at how loud Escovedo's singing actually was on the night. He knows what he wants to say and how he wants to say it. A few songs in and a group of people had emerged from the far corner to dance between tables. 'Bottom of the World' enticed movement amongst the crowd, this a song about the changing face of Austin, Texas. This was followed by, 'Sister Lost Soul', the harmonies were surprisingly tight for a band that had not met Escovedo until he had arrived in Italy at the start of the tour – although admittedly they have been living on the road in each other's pocket ever since.
"Our President is singling out my people" he told us, getting beautifully political about the American leadership and the impact it is having. He followed this with the astonishing and brutal 'Sally Is A Cop,' keen to point out that it's not just the authorities that people need to protect their communities from.
"They're marching up the streets, people hiding in their cupboards /From the crooked politicos to the mercenary lovers. Children forced to dig the graves of their fathers. Sally was a cop, but now she's a soldier"
The song this time had stand out machine gun drums, the bass and the sax giving it a night-time feel. It had the crowd on the floor doing the "Ooh oohs," and it had Escovedo and Gramentieri executing a screaming guitar play-off. Spellbinding, really. "Antonio is one the finest guitarists I've ever played with" grinned Escovedo afterwards, "and I've played with some greats." We all hope for the sake of both Sacri Cuori and Don Antonio, that Gramentieri hasn't become unbearable now.
With an encore comprised of other people's songs, the audience was told, "We're going to try a song we've never done before, excuse if I read the lyrics." And there he stood with a sheet in hand, singing Leonard Cohen's "Alexandra Leaving." Then Neil Young's "Like A Hurricane." It had to come to an end at some time though. The rock, the guitar, the long-attained attitude – Alejandro's mometous night in Belfast was over. Time for the merch table.
Versions of this first posted on State.ie
---