---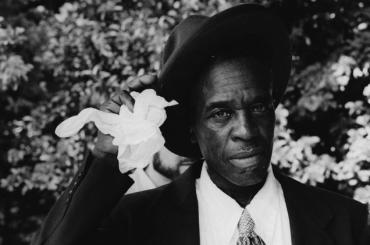 Mama Possum has had a buncha babies, and they're all worrisome. But for those of us just listening in, the only thing worrisome about this ten-piece Fat Possum brood is which treasure to dive into first.
R.L. Burnside, Reverend Gary Davis, Honeyboy Edwards, Mississippi John Hurt, Skip James, Furry Lewis, Little Brother Montgomery, Houston Stackhouse, Bukka White, and Reverend Robert Wilkins are all vying for your attention on these full-length, rare, and out of print releases also available on vinyl and on MP3 through Amazon Music.
Like Alan Lomax had done starting in the late 1930s as he collected blues and folk music, Adelphi records founder Gene Rosenthal, with the help of guitarist John Fahey, combed the country looking for blues artists whose work had been neglected or lost, re-recording them from '63- '72. The materials had a limited release in the '90s, but this time the work is available on vinyl as well.
There's so much material here, it'll take a while to get through it, but it's no chore. The recording quality is excellent, and the cuts are a good sampling of each artist's strengths and weaknesses. This is a warts-and-all production, no sweetening or overdubs – raw, real, and mesmerizing.
Furry Lewis' "Oh Babe" is a glorious mess. Lewis stops abruptly about three quarters of the way through, stammering "Well, now you can play anything u wanna … I … I … I tried to do the best I could." Someone in the background angrily shouts "FURRY!" "Ohh … you wanna hear my ending? I understand," Lewis says, jumping back into the fray. "My first name Furry/second name ain't nothing close/ I been waitin' on you baby/since you was 12 years old." He finishes up with a clang. "How's that for an ending?" he asks, as somebody laughs hysterically in the background.
Jorma Kaukonen's muse, the Reverend Gary Davis, was recorded in '69. The contrast between Davis' weathered vocal and his celestial fingerpicking on "O,Glory" is startling, his voice sounding like he's gonna croak any second and go on to glory, but his guitar work sounds as strong as a man who's gonna be around forever.
Skip James has a bunch of his best known tunes. "Devil Got My Woman" is included here in this '64 session, a little slower tempo than the Newport Folk Festival '66 version."Hard Time Killin' Floor Blues" is also featured. The only thing better than the "Crow Jane" cut here is watching him do it on the lyric video from the American Folk and Blues Festival in '67 on Danish television.
"Sweet Black Angel Blues" has been adapted by bluesmen from Tampa Red to B.B. King, but none are as pretty, vocally or instrumentally, as Houston Stackhouse's version included here.
Artists from Lloyd Price to Dr. John to Taj Mahal have cut versions of "Stagger Lee," but as this '64 recording shows, the definitive one belongs to Mississippi John Hurt. His impeccable fingerpicking inspired a stable full of guitarist/worshippers, including John Fahey, the co-curator of this collection. But nobody did it like Hurt.
Little Brother Montgomery provides a tutorial on his '69 session with the cut "Little Brother's Early Pieces and History" showing off his various and sundry piano blues stylings. For rattly bordello blues its hard to beat "You Gotta See Your Mama Every Night," an itchy anthem that makes you wanna grab a bottle and get busy taking care of lovin' bidness.
And there's still more – Rev. Robert Wilkins, Honeyboy Edwards, Bukka White, and R.L. Burnside are tuned up and ready to rumble as well.
It's a time travel machine that makes fast forwarding a reluctant task, a backward glance with a wraparound blues vista you won't soon forget.
---