---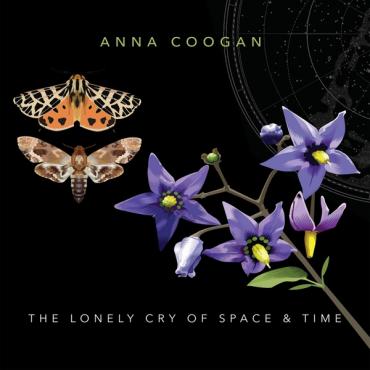 As its title might hint, Anna Coogan'sThe Lonely Cry of Space and Time (self-released on April 28) is category-resistant. Or, stronger, category-defiant–even across the wide open spaces of Americana. But until someone devises a Prog/folk/Eurodisco/opera/goth metal/environmentalist dystopian chanteuse category, it fits as well here as it does anywhere. Her previous The Birth of the Stars, in collaboration with JD Foster, hinted at the range here, and her vocals in support of the notorious Johnny Dowd have shown a taste for adventure. But his music explores worlds far beyond, one where space oddities collide with spaghetti westerns, and we're all interconnected and very much alone.
Her sole collaborator throughout most of this ambitious song cycle is percussionist Willie B., also a frequent Dowd accomplice (they're all based in Ithaca, NY, which makes you wonder what's in the water there).  Her vocal range is operatic, a three-octave soprano that shows her classical training, but it's the guitar squall she raises comes from a different world entirely.  Imagine Kate Bush fronting King Crimson.  Or think of the days when Jeff Buckley teamed with former Beefheart guitarist Gary Lucas.  But instead of complementary artistic sensibilities, this is one artist, soaring to vocal peaks that her guitar surrounds with atmospheric soundscapes, as the percussion grounds the ungroundable.
The connections between what seem like they shouldn't connect is the essence of this album. If I were her producer, I might suggest less vocal operatics, more guitar atmospherics. I think the most eloquent track here is "Last Exit," the wordless instrumental. I would frame this as an Angelo Badalamenti score for a film David Lynch has yet to make. But I'm not the producer, and that's the point.  Anna Coogan is. This is her baby. And what connects for her is more important than what works best for you or me.
---