Wisconsin's Good-Timing String Gods Offer their 'Ode'
Posted On February 15, 2018
---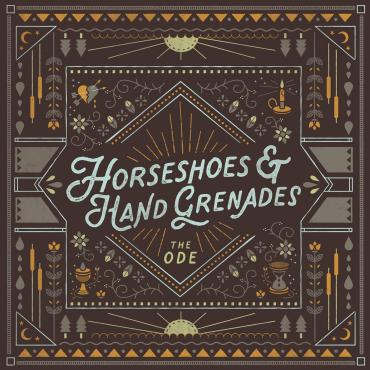 Readying their fourth full-length in seven years, Horseshoes & Hand Grenades' The Ode is a heavy dose of bullet-fired bluegrass with a twist. This inaugural offering on The Infamous Stringdusters' new stamp, Tape Time Records, tracked in Minnesota by fellow "stringhead" David Simonett of Trampled By Turtles fame, harkens the spirits of early Appalachia with the bruised and battered soul of classic country crooners through a kaleidoscope of transient themes and palettes.
The band's instrumental prowess is on full display as their touchstone, chugging bluegrass seasoned with blues harp, horns, and Nashville boogie. Impressive for a five-pack of Wisconsin boys on the audible end, the songwriting is heady and thoughtful, rich in "Wisconsin gold," painting vivid pictures of the boys' "American Dream" with room to stretch their collective legs. Supplanted Appalachian nougat cloaked in a luscious Americana shell with a peppering of freak folk high on horns. It sounds just as good as it reads — dessert for the uninspired.
Close enough for Horseshoes & Hand Grenades is the metaphor, I suppose. Close enough to bluegrass for the traditionalists, close enough to country for the Nudie suits, close enough to folk to be lumped into Americana: any way you'd like to microscope it is sufficient. Isn't that the point? All five members write songs. That's five sets of thoughts and personalities, troubles and worries, views and opinions, beliefs and laments. Essentially a younger and more 'grassed up, Midwest version of The Band, hear album closer "Eat The Cake" for further argument, as it could have passed as a Basement Tapes B-side.
To that end, vocalist, guitar and dobro picker Adam Gruel adds, "We've got the bluegrass burner type tunes we're known for on there, but we're experimenting with other elements. Little pieces of everybody are encapsulated in this record. For the first time, we were really conscious of allowing our respective musical curiosities into the fold. Sam drops in a jazz and classical feel. Dave brings that Zydeco, Cajun, and old-school blues vibe. Collin turns up with this kinda pop-folk energy, and Russell gives us the old-timey banjo feel. For me, I'm trying to play out my singer-songwriter curiosities. There are five songwriters in the band, and we've gotten better at harnessing our individual creativity and bringing it to the collective."
---