Willie's Way: The Reliable Willie Nelson Pays Homage to Sinatra
Posted On September 12, 2018
---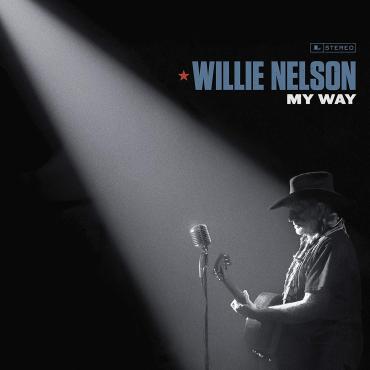 The five least-surprising words in American roots music? "Willie Nelson's new studio album."
This phrase, which plainly and accurately describes My Way in the album's accompanying press materials, is a sure bet, the recording industry's epitome of reliability and – even in an age when no one is buying records as compared to 20 years ago – a relative cash cow for Columbia Records.
Before My Way, a collection of Frank Sinatra covers, Nelson – the prolific country music legend – put forth 11 albums for Sony imprint Legacy Recordings, including the recent Last Man Standing. His 2012 signing to the label marked his return to the Sony-Columbia family, and, with that year's Heroes, the start to a crazy productive period with the industry behemoth. Not that this recording stretch has been any different than before: just like with his reputation for a perpetual presence on the touring circuit, Nelson is well known for rarely slowing down.
In the last few years, the quality of Nelson's studio albums has been surprisingly strong, from 2014's sturdy Band of Brothers to last year's poignant, life-affirming God's Problem Child. At 85, much of his lyrical content these days is centered on memories and mortality. That's why it's a treat – especially in these bleak times, when the last news we need is that Willie Nelson has departed this world – to hear him switch gears and play the songs of other talents.
He's done that a lot just recently, like a pair from 2016: Summertime: Willie Nelson Sings Gershwin and For the Good Times: A Tribute to Ray Price. Of those two, My Way is predictably more sonically similar to the George Gershwin record. We're talking standards here: less country, more swing.
My Way launches on a buoyant note, with the self-assured "Fly Me to the Moon." With a grand orchestra surrounding him, it's a joyful start. This lead track is a giant exclamation point that gives the record needed punch right at the top. Guitar enters to give the recording a country inflection, but, like most of My Way, the twang is sparse and – when used – pretty intentional in purpose.
Vocally, Nelson's characteristically speak-song delivery style works throughout, especially at the album midpoint, "Blue Moon." Here, he stretches the syllables out with such lackadaisical purpose. He knows his fans are savoring every second.
Most of Nelson's albums carry the burden of ample filler, and My Way continues that trend. Some of the arrangements suffer from being either too subdued (the dull, ambling "I'll Be Around") or too melodramatic (the strings-drenched "One for My Baby (And One More for the Road)").
My Way is no Stardust – his 1978 crossover smash and perhaps this new record's closest catalog analogue. But it's a winning, 35-minute tribute from the Red-Headed Stranger featuring a group of songs made popular by Sinatra, America's late standards standard-bearer.
There's no doubt that big band music lacks a certain coolness in 2018, but if anyone can give it a gentle lift, it's Willie Nelson. The icon hasn't lost a bit of hip currency in the last 45 years, and he's built up enough to carry his reputation and classic status for the next century.
---