What's in a Name?
Posted On February 22, 2017
---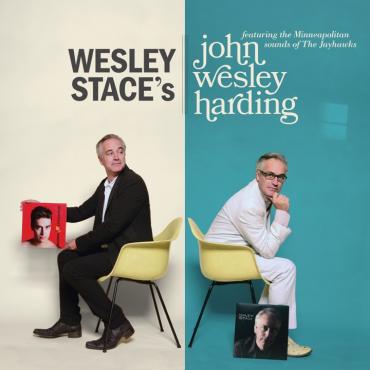 With a name borrowed from Bob Dylan and a tuneful literacy channeling Elvis Costello, John Wesley Harding introduced himself  almost two decades ago as a witty, British singer-songwriter of cheek and tuneful charm. Since then, he has earned considerable respect in book circles for the four novels he has published under his given name, Wesley Stace. Hence the unwieldy title, Wesley Stace's John Wesley Harding (out February 24 on Yep Roc), his second release as Stace, acknowledging his former alter ego, and likely to confuse more than resolve the whole name issue.
Fortunately, the music itself requires no elaborate explanation, as Stace has found in the Jayhawks the perfect band for his hooks and harmonies. The beguiling melodicism still sounds at times like Costello Lite. But when is the last time that Elvis Costello has released an album featuring the beguiling melodicism of  "I Don't Wanna Rock 'n' Roll" and "Better Tell No One Your Dreams,"  the narrative depth of "Hastings Pier" and the intimacy of "Audience of One"?  This is a seductively sneaky album, one that insinuates itself into your subconscious until you find yourself humming a chorus you can't quite place, and realize it's another one from Wesley Stace (or whatever his name is).
It's even more of a revelation concerning the Jayhawks, who stretch and soar here, while subsuming their own band identity in the music of another (as they have also done to striking effect in the forthcoming album by the Kinks' Ray Davies). If Wesley Stace is done sidelighting as John Wesley Harding, the Jayhawks are now moonlighting as Americana's most empathically collaborative backup band.
---