Webb Wilder Takes a Wide-Ranging Wander on 'Night Without Love'
---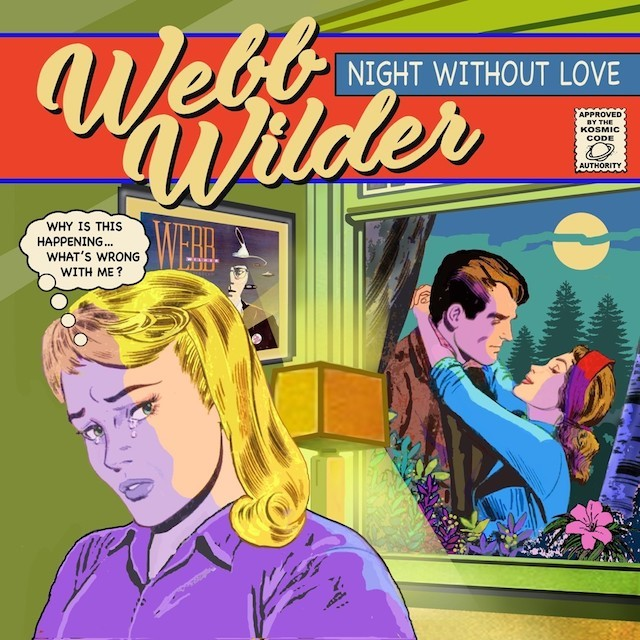 He doesn't wear tights or have a cape fluttering behind as he leaps tall buildings with a single bound. He's not faster than a speeding bullet. But Webb Wilder is a musical superman, billing himself as "The Last of the Full Grown Men" and sporting his own credo: "Work hard, rock hard, eat hard, sleep hard, grow big, wear glasses if you need 'em!"
Wilder's self-deprecating humor first surfaced in the 1984 cult film Private Eye, with Wilder delivering his lines in a deadpan impersonation of actor Fess Parker's wooden portrayal of Davy Crockett on 1950s TV. Wilder investigates the alien abduction claim of one Hiwayne Suggs, who alleges that extraterrestrials took away his beloved, Pristine Suggs. Wilder solves the mystery by revealing that she ran off with a neighbor, and Hiwayne made up the story to cover his shame. The USA network ran the film on its Night Flight show in the '80s, creating so much buzz that the actor formerly known as John Webb McMurry started a band featuring the Webb Wilder character.
Wilder's self-deprecating humor is part of his show, but he's no novelty act. His debut, 1986's It Came from Nashville, blends surf, twang, and rockabilly for a hip-shaking classic that still stands up tall and wiggly. Wilder says it's only rock and roll, but with him at the helm, that's a-plenty. An accomplished guitarist, Wilder has always surrounded himself with a road and studio band as good as Delbert McClinton's. They don't sound alike, but McClinton and Wilder draw from the same twang and thump sources.
For his 11th recorded outing, Night Without Love, Wilder, a Mississippi native who resides in Nashville, digs up some muddy roots and shakes 'em till the dirt flies. Australian pub rockers The Inmates put out a rattly thump fest in 1980 called Shot in the Dark, with one cut that sounded like Waylon Jennings impersonating Elvis doing '50s rockabilly. Wilder reworks "Tell Me What's Wrong" a bit more psychedelically, like the Big E with a head fulla 'shrooms, slipping in and out of a Buddy Holly persona when he peaks.
But staying on one theme or sound is not in Wilder's credo. The singer-guitarist goes a-wanderin' on The Amazing Rhythm Aces' 1975 track "Hit the Nail Right On The Head," adding more boogie to its woogie and a little more glide in its stride to muck it up like swamp rock with a snaky second line trying to break in. He adapts Los Lobos' David Hidalgo and Louis Perez's 1990 "Be Still," giving it more of a Marty Robbins feel, warbling like a trail-worn cowboy angel.
His collaborations are pretty spiffy as well. Legendary Swamper Dan Penn ("Dark End of the Street") lends his touch to "Sweetheart Deal," a smooth weeper greased with Muscle Shoals soul. Wilder cloaks himself in his Duane Eddy persona for "Buried Our Love," tossing the cape back long enough to link up with Buddy Holly's tonsils before piggybacking with Duane once again.
It's no joke. Webb Wilder is back, more grown up than ever, wearing glasses, rocking hard, and kickin' ass.
---