We Banjo 3 Offers Haven for Celtgrass
---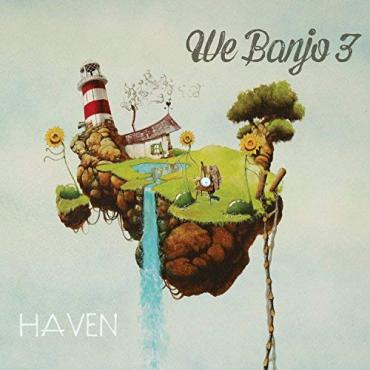 Celtgrass. If you Google the word, it takes nearly four search pages to find the term used for something other than We Banjo 3. The Galway, Ireland-based quartet coined the term for its blend of traditional Irish and American roots music years ago and if the internet is any arbiter, it's solely the fiefdom of We Banjo 3.
The band's reign as the chief proprietor of Celtgrass continues unabated on its fourth studio album, Haven. The album finds We Banjo 3 treading on familiar ground, presenting the same style of well-arranged, well-produced breezy listening first presented on 2012's Roots of the Banjo Tree.
While the sonic template remains nearly identical to the group's last release, String Theory from 2016, We Banjo 3 put together some of the hookiest lyrics and choruses of its career on Haven. Like folky, Jason Mraz-with-a-brogue kind of catchy hooks you can't help but appreciate.
The album's opener, lead single, and title track, "Haven," is a prime example. It starts softly, a solitary mandolin and David Howley's wistful vocals. From there, it builds. Fergal Scahill comes in on the fiddle, and by the chorus, the entire band has kicked in and Howley sings an anthemic chorus ready-made for audiences to sing along with live.
The next tune, "Light in the Sky" is similarly singalong-able. It has a bounce to it, sounding reminiscent of Mumford and Sons' "Little Lion Man." But unlike that song, We Banjo 3's melodic buoyancy and Howley's vocal track replace urgency with competency. There's a composure and an element of restraint in the way the band constructs its songs. It gives the material a clean, glossy sheen that makes for an easy and accessible listening experience on a song-by-song basis.
But this approach also tends to make the songs bleed into one another with little to distinguish them. Taken individually, there's nothing wrong with any of these tracks; they all sound fine. But when casually listening to the album from start-to-finish in its entirety, it can be hard to tell what really sets apart a song like "War of Love" from album closer "Hold Onto Your Soul" aside from the latter having a slightly better chorus.
There is one exception to this generality, however. The eighth song on Haven is called "Sunflower" and it's a sublime piece of folk-pop. It's a really pretty, delicate song and the execution on it is flawless. In an era with less homogenized, corporate-controlled radio and streaming outlets making it more difficult for genre artists on independent labels to break into the mainstream, it could be a crossover hit. If it had Ed Sheeran's name on it instead of We Banjo 3, iHeartRadio stations nationwide would play the hell out of it and it'd get millions of streams on Spotify.
Additionally, Haven has four instrumental tracks: "Sugar House," "Annabelle's Cannon," "Marry Me Monday," and "Dawn Breaks." On all of these, David Howley's acoustic guitar serves as a rhythmic anchor for Enda Scahill's virtuosic banjo skills. "Marry Me Monday" is the only ballad in the bunch, with the rest serving as toe-tappers one could easily dance to at a show. Taken as a whole, they serve to showcase the band's ability to take the Irish and American folk traditions and present them as a unified theme.
We Banjo 3 has over 60 tour dates booked over the next eight months. The 11 songs that comprise Haven could easily be nestled into any of the band's setlists on these shows and fit right in. They won't necessarily excite, but they won't send anyone home disappointed either.
---