Watermelon Slim Plays Blues Shaped by Life as a 'Traveling Man'
---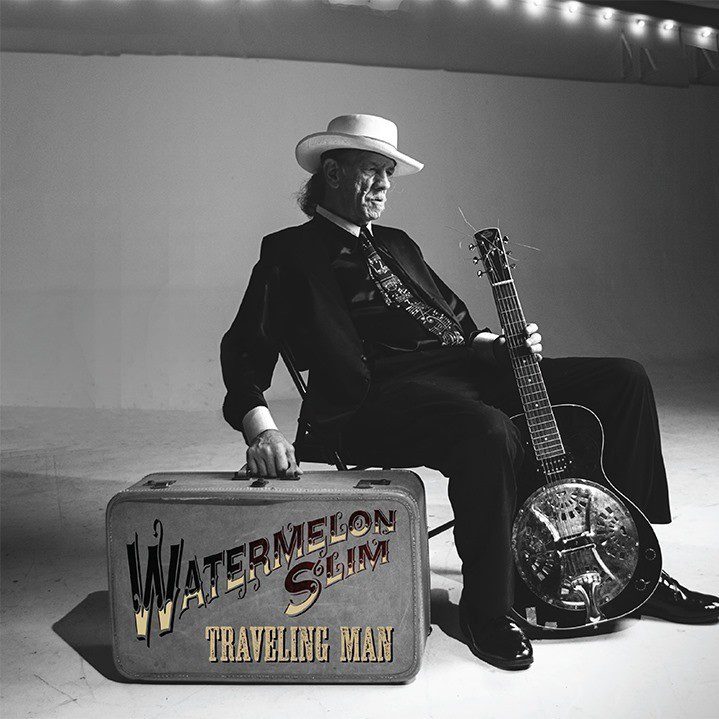 Bill Homans looks as rugged as the blues he plays. As his alter ego, Watermelon Slim, Homans honed his rough-and-tumble, bare-bones blues style bouncing around the country in a variety of blue-collar jobs . A Vietnam vet, he recorded an anti-war protest album, Merry Airbrakes, in 1973, learning to play slide while recuperating from injuries at a hospital in Cam Ranh Bay, Vietnam.
Thirteen albums later, the 70-year-old Boston native raised in Asheville, North Carolina, still has plenty of grit and grumble, banging out a double album's worth of originals and classics from Muddy and the Wolf, sliding around diabolically on his trio of electrified resonator guitars. With his band The Workers, Slim put out chunky, twangy blues, but goes solo for his latest outing, Traveling Man.
Slim has been based out of Oklahoma for many years now, and this collection was recorded live in 2016 at the Blue Door in Oklahoma City and at the Depot in Norman, Oklahoma.
It's rough stuff, workin'-man's blues that sounds like it was delivered from a back porch in the Delta  with a jug of shine in handy reach that Slim has been sampling for lubrication purposes.
Slim claims "Truck Drivin' Songs" are never going out of style, backing up his theory with some ringing greasy, country-style slide. "I do it for the money and the song of 24-inch tires in the rain," he confesses to a truck-stop cutie who tells him she'll show him her tattoo if he explains his fascination with the road. She gives him a brief viewing, allowing that "I'd show you more but I know I'd regret it cause my old man says the same durn thing."
Even though it's an original, "Blue Freightliner" sounds like something Junior Kimbrough might have cranked out in some hill country juke joint. Slim situates Muddy and the Wolf shoulder to shoulder for "Smokestack Lightning/Two Trains Running," an 11-minute extravaganza demonstrating his string-poppin' finger dexterity and howlin' skills on "Smokestack," a song he says he's been singing since 1963 when he heard it on a Yardbirds  record. Slim glides easily from the Wolf's den onto the Muddy track to reverse the situation and be the  sneaky visitor to somebody else's beloved.
Slim sounds a bit less raspy on the second disc, from the Depot show, rocking like Levon Helm channeling Chuck Berry on "Let It Be in Memphis." Introducing "Devil's Cadillac," a song he says came from his time with his band, The Workers, he invites audience members to come down to Mississippi and he'll take them to the crossroads. But he cautions that last time he took a party to the crossroads there was total eclipse of the moon and he can't tell who you might meet and what you might do.
With or without The Workers, Watermelon Slim brings in the crop, out-pickin' everybody else in the field.
---