Watermelon Slim Goes to Church
Posted On January 25, 2019
---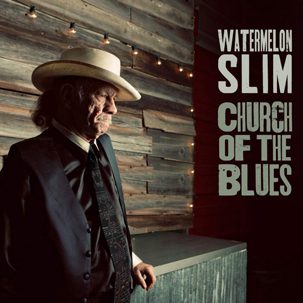 The geography might be bit off for a bluesman, but Watermelon Slim's music sounds as organic as his moniker. Born in Boston, raised in Asheville, North Carolina, Bill Homans honed his craft while working his way west as a truck driver, managing to pick up a degree in journalism from the University of Oregon and a master's in history from Oklahama State along the way.
The Vietnam War vet learned how to play slide using a Zippo lighter and anything else he could get his hands on as he lay recuperating in a hospital in Cam Ranh Bay. "I've fought in a war and against a war," Slim is fond of saying, backing that up by being one of the first veterans to put out a protest album, 1973's Merry Airbrakes.
His latest, Church of the Blues, has some protest music as well. "Mni Wiconi – The Water Song" bemoans the lack of care about preserving the purity of the nations' water supply. "We're using up our water, water is our life … if we don't care about our water, we don't care who we kill," Slim proclams after Joe Louis Walker lays down a stinging rebuke on his big red Gibson.
Although it sounds like some muddy-rooted delicacy dug up from the Mississippi Delta, "St. Peter's Ledger" is an original Slim composition, the guitarist slipping and sliding along the banks of the Big Muddy like a native.
Former Junior Wells bandleader Albert Castiglia shows off his fiery, King-ly licks on Slim's original "Too Much Alcohol."
Slim's originals are impressive, but he shows he's a fearless makeover artist as well, covering Wolf's "Smokestack Lightning" with more mellifluous moans than its originator, taking slippery dobro liberties with Hubert's original signature guitar figure, retaining the integrity of the original but adding some tasty new twists to the delivery and instrumentation.
"Me and My Woman" is a far cry from the agonized tale spun by John Mayall and the Bluesbreakers on 1967's Crusade. Slim hasn't changed the contentious relationship — it's still a tale of a battle of the sexes: "Friday everything is beautiful / Saturday we have no peace / Sunday we go to church / and Sunday night that woman called the police." Slim doesn't seem as worried about the outcome. His take focuses more on the song's central theme that "we don't get along but one day at a time," so he just bops along, taking it as it comes, letting his harp do the fussin' while he revels in the telling of the tale.
On Allen Toussaint's "Get Out Of My Life Woman," Slim has some help from Bob Margolin contributing some wiggly Muddy slide guitar. Sherman Holmes, the only remaining member of the Holmes Brothers, contributes some of his etheral family-style harmony, and old-school R&B/blues/soul crooner/harpist John Nemeth lends his tonsils to the harmonies as well.
For "Gypsy Woman," Slim's diggin' in a little deeper groove, slowing Muddy's original down a bit but still keeping it authentic down to a stunning Little Walter harp impersonation, Margolin stepping in once again to add some slippery Mud to the mix.
Slim's an unlikely preacher, but his sermon this time out is worthy of few heartfelt amens.
---