Watch Out for Molly Tuttle's Rapid "Rise"
---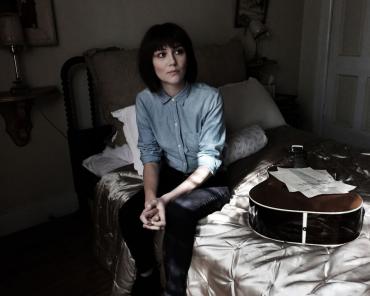 San Francisco bluegrass? Yes, and, too, the voice of an Appalachian spring and a young woman pickin' like a Stanley brother. Coming out of a Stanley-like family of acoustic wizards, Molly Tuttle has distinguished herself to the point of gracing beautifully the cover of Acoustic Guitar, a somewhat rare gender occasion there. Her new EP album "Rise" has now arrived, dripping with this irony and accomplishment.
You may have heard the lovely "Save this Heart," a tune that's gotten some play and has staying power. It remains in my consciousness like I've known it forever. The young lady has a way of writing songs that are deceptively simple yet musically deep and with provocative picking. About half of this short album are love songs.
She seems chased by a broken heart wanting to linger. But, she writes about it well, again, simply, but with grit, with, as she says here, an edge of poison in that sugar. The rhymes are neat and nicely placed, the stanzas succinct and rhythmically tight.
your letters get longer/the days get shorter/I call across the border/it's static on the line/save this heart of mine/darling don't forsake my hand/I swear the light is not too far/think I finally understand/what you've seen clearly from the start/do you feel me in your blood/am I the poison in your veins/deep down I've known you were the one/is it too little too late
Love Songs to Apocalypse
With her charming features and personal directness and youthful grace, it's hard to picture Molly lonely. Perhaps she projects. At any rate, there other subjects here. Like, for example, the end of the world. In "Walden," she decries,
the sun up above shines its fury on the prairie/you can hide from it, you can try but you'll never get away/they sow the fields but the clouds have all forsaken/they've taken all/no more water falls 'til the earth has turned to clay.
And later in the song,
long after we're gone still the earth will turn round and round/and all we've created will tumble into the ground/the life in us is like a river/may rise this year/may raise higher than man has ever known
Her guitar picking is often clawhammer style fashioned from her banjo playing, both guitar and banjo learned from her dad, Jack Tuttle, a famed acoustic instructor in her home town Palo Alto in greater San Francisco.
All in the Family!
Starting to play at 8, she joined the family band, The Tuttles, starring with dad and two brothers, all the kids accomplished acoustic players at their fledgling ages. She and dad made her first recording at age 13.
Brother Sullivan is a pretty cool dude himself, recently doing Bob Weir's powerful "Daughters of the Soho Riots" on video, a good looking young guy, intense, and yet another talented guitar player. And Michael, the youngest, started very young and is no slouch on mandolin. Their act often included another young Bay Area talent, A.J. Lee.
Molly has won several awards for her playing, appeared a number of times on Prairie Home Companion, at times with father Jack, and is a graduate of Boston's prestigious Berklee School of Music. Not only that, but she dresses well.
Now, Molly, a veteran in her early twenties, lives in Nashville, like everyone else almost in this musical world of ours, and plays solo, with The Molly Tuttle Band, and as a member of The Goodbye Girls, a delightful female quartet of talents.
Watch for "Rise"
On "Rise," you can hear her picking with furious speed, fingers racing up and down the fretboard and with the other hand picking up, down, and again, modally repeating phrases, then subtly changing.
"Good Enough" is another catchy song from the album that you may have heard.
couldn't sleep last night/too many demons floating round my head/but with the morning light/your warmth pushed away my dread/there comes a time to say that's good enough/i'm finally learning to let some doors stay shut/it gets so hard but I'm not giving up/there comes a time to say that's good enough
She's strongly supported by: Wesley Corbett, banjo; John Milander, fiddle; Todd Phillips, bass. And, with Kai Welch on pump organ and Darrell Scott providing added vocals.
The Ferocity of Beautiful Flowers
If you want more, check out her duet with Melody Walker, a happy collaboration of harmony and words performed in a Nashville guitar/instrument store. It's a song they wrote together about "coming together and finding a common cause with others."
Instrument stores are where Molly has performed often, in videos showing the strength of sound and range of capabilites in a variety of Gibsons, Martins, and other acoustic thoroughbreds. Sometimes that's in Gryphon, the stringed nirvana where her father teaches in Palo Alto in greater San Francisco.
She's on tour now showcasing "Rise" cross-country. I look forward to seeing her at the Steel Wheels' Red Wing Roots Music Festival near Harrisonburg, VA in July.
At the end of her album kudos she credits her dad with giving her the love of music, a love she's taken and nurtured, seasoned, and grown into the quiet grace, ferocity, and beauty of flowers and plants, living things, life.
---