Walter Salas-Humara's Ongoing Adventure
---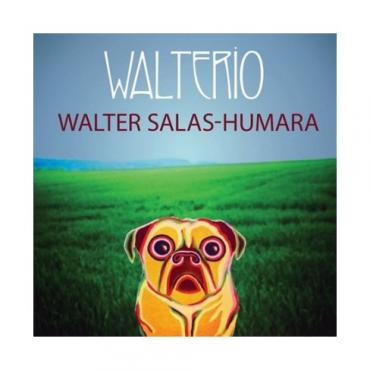 Spearheaded by Walter Salas-Humara, The Silos released their debut in 1985, going on to forge an impressive oeuvre. 1987's Cuba moved seamlessly between acoustic-based tunes and electric tracks, fusing the narrative style of Nebraska-era Springsteen and the cosmopolitan angst of the Velvet Underground. 1998's Heater eclectically mined noise rock (Sonic Youth), shoegaze (My Bloody Valentine), and grunge (Nirvana), contrasting crushing choruses with gossamer verses reminiscent of R.E.M. I'll add that it's gratifying to encounter bands that mature well, and such is the case with Salas-Humara and company, 2007's Come on Like the Fast Lane and 2011's Florizona showing the band at its perhaps most cogent, Salas-Humara crafting some of the more memorable hooks of his career.
In addition to his work with The Silos and involvement in various side projects, Salas-Humara has released four solo albums. With his latest and fifth solo release, Walterio, he continues to navigate new methods, themes, and textures, as well as a range of vocal styles and instrumentation. Listeners unfamiliar with Spanish won't mind that the opening track's lyrics are not in English, a testament to Salas-Humara's adeptness at constructing a universally accessible melody. Other winning ingredients include magnetic harmonies and a fiery guitar solo by Joe Reyes. "Here We Go" will remind some listeners of John Hiatt, at least vocally, the band chugging along with the ferocity of Crazy Horse or the E Street Band. Salas-Humara sings, "I'll meet you at the airport / I got a few last things to do / Leave the keys with the landlord / Don't even think it through." While the uber-romantic motif of "leaving it all behind" can easily devolve into cliché, Salas-Humara's version avoids banality, his melody and lyrics, along with the band's dynamic instrumentation, yielding an authentic, credible, and resonant gestalt.
"Will You Be Ready" opens with an acoustic guitar reminiscent of Blind Faith's "Can't Find My Way Home." The trebly and repetitive drum loop adds an element of lo-fi charm as do the seemingly impromptu harmonies and Jonathan Rundman's moaning and distorted harp. Reminiscent of tracks from Nick Cave's Dig Lazarus Dig, "She's a Caveman" shows Salas-Humara experimenting with new-wave and art-rock vocal tones. "Hecho en Galicia," another piece sung in Spanish, will pose no barriers for monolingual (English) listeners, given its ebullient soundscape and irresistible melody.
Salas-Humara is a keen observer of popular forms, absorbing the salient characteristics and energies of various genres and subgenres, and recontextualizing these attributes within his own aesthetic vision. In this way, he draws from and comments on numerous sources, reaffirming and expanding his own palette. On "Come in a Singer," he visits ground well-tilled by a long line of Americana and roots-rock luminaries, including Gram Parsons, and yet his melody and lyrics, and delivery of them, occur as signature Salas-Humara, an inventive rearrangement of musical and thematic tropes. On "Should I Wait for Tomorrow," the piano and organ serve as ideal complements, the mix resulting in a palimpsest of highly compatible but variant tones. The set closes with "Out of the Band," reminding me of various tracks from Alejandro Escovedo's Real Animal (cf. Salas-Humara's 1993 collaboration with Escovedo and Michael Hall) but that is quintessentially Salas-Humara: the recognizable vocal and hummable melody, a succinct and riotous guitar solo rising above the driving rhythms. The album closes with a condensed but compelling jam.
Encyclopedic in his comprehension of musical history, Walter Salas-Humara masterfully reframes antecedent sources as his own. Whether mining shoegaze, folk balladry, Caribbean sounds, grunge, or the blues, he exhibits a knack for weaving borrowed stylistics into his own broad and still-broadening aesthetic brand, transforming heritage into legacy, debt into benefaction – interpreting the past with an ear for the future.
---