Vintage Soulful, Bluesy, Brassy Diversified Powerhouse Vocalist from NZ
---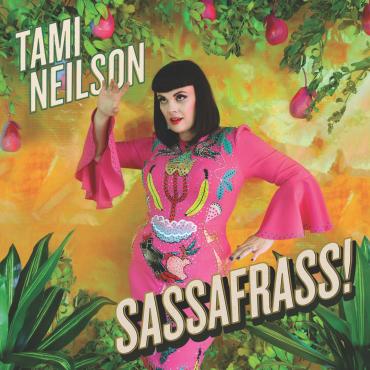 New Zealand has always been a hotbed, albeit quietly so, of wonderful artists who perform Americana-roots-folk/rock and country music quite expertly. The Canadian-bred New Zealand artist Tami Neilson is no exception. On her fiery, well-produced third album Sassafrass!, Tami performs in a more vintage soulful, bluesy, brassy '60s style with well-punctuated horns. Her soulful voice borders on early Etta James – if you can believe that. Her female backup singers sound reminiscent of Ray Charles' Raelettes, and this is a retro journey that will carry your ears along at a break-neck speed.
Once again, the polish of an artist like this has her secrets in the crisp arrangements. At no time is Neilson's performance retro – she has taken an old piece of wood and shaved it with a plane, sanded it, stained it, and even varnished it to a high gloss. It may be recognized as vintage but it's not.
The lead-off track "Stay Outta My Business," is a typically Etta James attitude, and the more upbeat "Diamond Ring" is syrupy in its brass showcase. There's a more positive slanted style here as picked up as well by Amy Winehouse. Maybe Neilson is an heir apparent to that genre. This track has some incredibly wonderful brass solos and the production resonates.
Melody-wise, "Diamond Ring" reminds me of the fiery confection of a hit record from '60s pop singer Eydie Gorme of "Blame It on the Bossa Nova" fame. Percussive, melodic, and memorable. Maybe Neilson should cover that song — it suits her style and that song for Gorme was always a showstopper. All she has to do is replace Gorme's cheesy Farfisa organ with something with a little more muscle.
"Bananas" is more noir in its approach. Wow, that was a jump. It shows a talented vein of lounge-jazz and Neilson carries it off nicely with a retro Tom Waits-style guitar supporting it over the ghostly singing under the staircase backup singers. This is cool and stylish without being a novelty song.
Nice blues voice follows and Neilson continues to display her impeccable diversity. This may yet be the best cut on the collection: "A Woman's Pain" has a distinctive Bobbie Gentry style to its lyrics and storytelling. The deeply motivated strings and even deeper guitar lines have a delta feel despite Neilson's New Zealander-Canadian roots. This song is pulled from the same soil as Gentry's "Mississippi Delta," "Ode to Billie Joe," and "Okolona River Bottom Band." This one will be close to my personal summer top 100.
From Bobbie Gentry back to Amy Winehouse, Neilson pours her style over their initial showcase and makes it her own. "Devil in a Dress" has some light brass but the focus is the powerful vocal and the radiant lead guitar that follows the soulful brass. "White smoke curling from her lips, rosary running through her fingertips" is among some of the seductive noir lyrics sung with just the right heat. This smokes.
MOR oriented (middle-of-the-road) "One Thought of You" has that '50s-style guitar that even Bob Dylan adapted to some of his later originals. This song proves that Neilson could easily be another contemporary artist who could duet with the likes of Tony Bennett. She gets it. This is just a simple, commercial, old style ballad but Neilson is on the mark throughout and it is not nostalgia. It is maintaining a respectable older, successful genre into a new century.
"Miss Jones" is a Dylan-type-rap talking blues tune with fire, energy, and attitude. This song suggests Tami would be and probably is a wonderful stage performer. The song has all the necessary drama and soulful aplomb. The instruments push through crisp and tight and all the musicians are proficient in their respective performance of the song. The brass is wild and more of it would have been even better.
Adapting once again the Delta mysterious swampy blues of a Delbert McClinton, Bob Dylan, John Hammond, Jr., and Bonnie Raitt – Neilson joins that elite club with "Smoking Gun." She has definitely shaped her own style effectively around many legends of the music business, but it's her New Zealand sting that is so beautiful in these songs. While her voice is not as country-friendly as New Zealand's classic, award-winning singer-songwriter Donna Dean, ("What Am I Gonna Do?"), Neilson does have the grit and density of the marvelous NZ singer-songwriter Shona Laing ("Glad I'm Not a Kennedy").
A little novelty rockabilly song never hurt anyone and it shows a sense of humor. "Kitty Cat" is as endearing as Elvis' "Teddy Bear." However, hopefully this is not the hit Neilson seeks – she is just too good to be associated with a hit that is a pure novelty and for fun. Her follow-up is the intense and sensitive "Manitoba Sunrise Motel 6" — now that's a stunner. This beautiful track has a retro deep-toned lead guitar of many '60s pop-country songs and it resounds in this. Neilson's voice is poignant and sincere throughout. This may be her single finest vocal on the album. It substantiates her artistic value. What does that mean? It means she's not just a singer-entertainer. She is an artist. Someone worth listening to aside from trying to dance with.
She could easily sing in the Grand Ole Opry and I know she would receive a standing ovation from those old country stalwarts for a performance like this one. Her voice is deeper than Emmylou Harris' but it's in that realm of quality. Her tone, intonation, phrasing, and how she hits her notes is chillingly good. This song would play beautifully alongside Christine Ohlman's "The Deep End" because Neilson and Ohlman have something imagewise in common and their voices complement one another in these two songs.
Not satisfied to move on to something different, Neilson stays in the country vein and "Good Man" is a slow blues ballad performed with shimmering distinctive vocals and powerful notes. Now Neilson is in a Karen Lawrence (solo blues artist who also sings with 1994 & Blue By Nature), Tracy Nelson territory and that's a road less traveled by many vocalists. She sings slow and sincere and with clarity then soars like a bird with its wings stretched out — not flapping, just gliding. She doesn't seem to need much lift to get where she needs to be. If she sets aside her novelty songs and light fare, she is a credible blues singer with country spice. For my money, this is truer to the tradition of country than Taylor Swift or Shania Twain. This is from the richer soil of country-blues. This is the stuff of down-home, smell the honeysuckle in the air singing. This is not about pick up trucks, beer drinking, and chewing tobacco. This is the real deal and what? Is she from New Zealand? Yeah, well, I'm not surprised – if New Zealand can produce an incredible talent like Donna Dean and Shona Laing – they most certainly can send us a percolating diva like the award-winning Tami Neilson.
Neilson's band of reliable musicians is known as The Hot Rockin' Band of Rhythm: Joe McCullum – drums-percussion / Neil Watson – guitar & pedal steel guitar / Brett Adams – guitar / Mike Hall – bass / with Dave Khan & Anita Clark – strings / Gwyn Reynolds, Cameron Pearce, Scott Taitoko, Reuben Derrick – Horns / Nyree Huyser, Sarena Close & Georgie Clifford – background vocals / and Tami Neilson herself – acoustic guitar.
The CD package is a beautiful colorful six-panel fold out with the lyrics printed in the centerfold. My only criticism is that Neilson doesn't look anything like the type of music that is found in her collection. She is too, uh, Uma Thurman "Pulp Fiction," like when the music is more soulful, bluesy, country. And the name of the album (in other parts of the world it just refers to a tree, and the leaves have a perfume scent – it's not slang in America as indicated on the CD back sleeve. Maybe for American release, the CD should have been renamed "Sunrise at Motel 6"). The CD title had me initially thinking more light fare, island music, bossa nova-maybe, novelty, and upbeat in a style like the banana wearing Carmen Miranda. This is more my PR background commenting than music-reviewer. However, the image of Neilson in those big 50's dresses standing under a haircut sign or leaning over the old-time radio – those are cool images of what her music represents. That's quite representative of what I had listened to and Neilson does present it all in a compelling manner.
I am all about staying as close to the music performed even in "look" as possible. Tom Waits looks like his music. Leonard Cohen looked like his music. Amy Winehouse was parallel to her music. Janis Joplin embodied her music. You get the idea. You are selling a product – the music and yourself. Try not to distract from that image. It helps the audience relate to your showcase.
The graphic design was by Jules Koblun, Valiant Made & the photography (which is marvelous) by Ashley Church, Fever Hotel. The dress design was fabulous & the artwork by Xoe Hall, Fever Hotel. The 35-minute album was Produced by Ben Edwards & Tami Neilson.
Website: http://www.tamineilson.com/
Facebook: https://www.facebook.com/tamineilsonmusic
Disclaimer: The opinions expressed in this review/commentary are those of the author and do not necessarily reflect the official position of No Depression. All photography is owned by the respective photographers and is their copyrighted image; credited where photographer's name was known & being used here solely as a reference and will be removed on request. YouTube images are standard YouTube license.
John Apice / No Depression / June 2018
---