Uplifting Thoughts From Deep Below Italy
Posted On September 19, 2017
---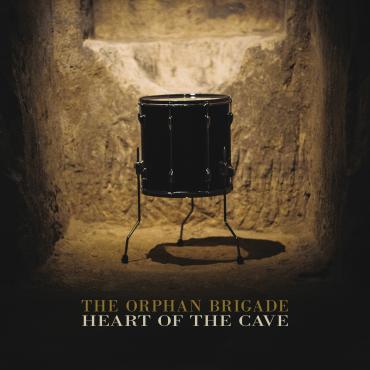 Like the 2,500 year old caves that inspired The Orphan Brigade to record this, their second release due on September 29, Heart of The Cave has extraordinary depth in its lyrics and musical arrangement. This is a concept album, not in that description's frequent association with complexity but in the originality of the idea and how whole project comes together. Moving from anthemic crescendo to simple tunes The Orphan Brigade have matched the mysticism of their subterranean surroundings with a series of equally deep reflections.
The idea came about when Ben Glover, Neilson Hubbard and Joshua Britt were touring Europe to support The Orphan Brigade's 2015 release, Soundtrack to a Ghost Story, about a haunted house in Kentucky during the Civil War (they took the First Kentucky Brigade's nickname). While in Italy they explored the caves far beneath the town of Osimo. These tunnels have a history filled with secret societies and saints. The Orphan Brigade could see another story, as put by Neilson Hubbard, "full of life, death, spirituality, transformation and mysticism". The result is Heart Of The Cave.
The opening track, 'Pile of Bones' starts with a dirge-like chant to a drum beat. You feel as if you've stumbled upon something very ancient and secret. All participate, there is a mass of voices and instruments rising to a chorus of, "we ain't leaving but a pile of bones". In a way the track list is back to front. We start with all that's left, a pile of bones, but then the metaphysical takes over.
The next two songs demonstrate just that. 'Town of a Hundred Churches' is set in Italy but its upbeat tempo and lyrics bring us right back to the roots where we more typically associate these musicians. 'Osimo (Come to Life)' has Ben Glover (whose vocals throughout are outstanding) singing about the life that remains in the heart of the cave. The build-up includes the most haunting horns that would not have sounded out of place at any time during Osimo's long history. Add in the harmonies and the result is magnificent.
In complete contrast 'Flying Joe' is a catchy tune of powerful simplicity. Around a guitar and mandolin then with those horns The Orphan Brigade launch into a spiritual about a former resident of Osimo, St Joseph of Cupertino, whose mediations made him levitate. The simplicity continues with 'Pain is Gone', sung almost in a whisper that matches the unchanged landscape.
'Alchemy' seems to dig even deeper with its meditative sway, a lot is going on but again all brought together by the relentless chorus. Likewise 'The Bells Are Ringing', but at a faster pace with a more hopeful feel. 'Sweet Cecilia' takes us back onto territory more associated with most of these artists, a song of searing emotion with some great slide guitar.
The final three songs lead the listener through the albums deepest moments, 'Meet Me In The Shadows' feels as if it comes from the most remote cave of them all, as befits a song of such spirituality that sounds like a Gregorian chant. You can almost see those monks. 'There's A Fire That Never Goes Out' reinforces the permanence of these caves, their stories will never be forgotten. 'Donna Sacra' gives the album a sense of completeness. Its delicate strings and voices are the album's fitting benediction.
The Orphan Brigade all deserve mention. As well as Ben Glover, Neilson Hubbard and Josh Britt, they are Gretchen Peters, Barry Walsh, Kris Donegan, Heather Donegan, Dan Mitchell, Dean Marold, Will Kimbrough, Natalie Schlabs, Eamon McLoughlin, Audrey Spillman and Kira Small.
What started as a project has brought them together as a band that has created one of the most moving and thoughtful recordings I've heard in a long time. Like a meditation, the caves and the mysticism The Orphan Brigade have recreated in the Heart Of The Cave leave you feeling completely refocused with things rather more in perspective.
---