Trigger Hippy Starts Fresh on 'Full Circle & Then Some' 
Posted On October 9, 2019
---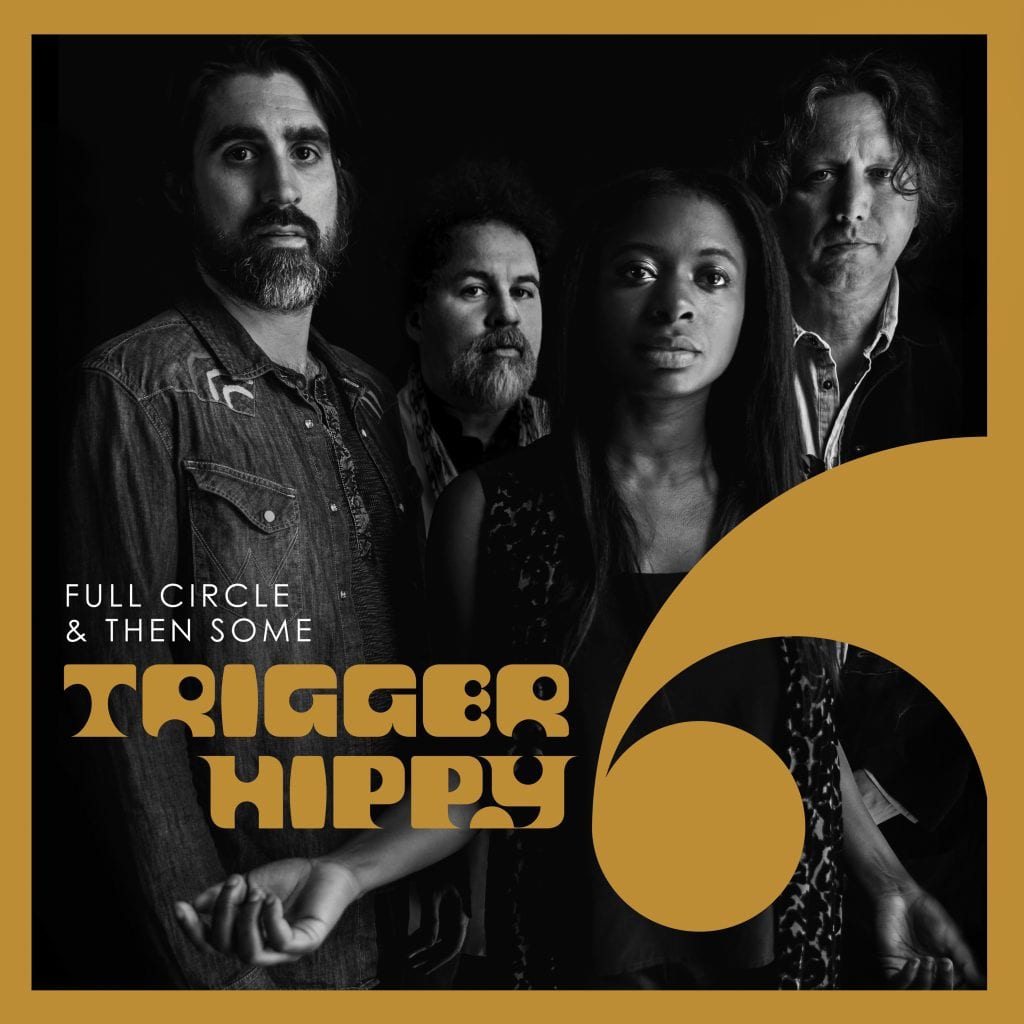 Theologian Kosuke Koyama once wrote that "there is a powerful trend in our world today to turn away from the traditional toward the revolutionary." Koyama points out that no matter how much you move toward the "supersonic aircraft," the traditional "ox cart" will not easily disappear, and it will continue to make a valuable contribution to humankind. Though Koyama wrote this in 1974 in a theological text, it's hard to deny its pointedness in the music industry today, an industry that is constantly trying to evolve and churn out the next new thing while attempting to reconcile with the classic sounds that have come before.
Enter Trigger Hippy.
Since they met 15 years ago, drummer Steve Gorman and bassist Nick Govrik have pursued the eternally difficult task of honoring the historic sounds of their own music and influences by inching closer and closer toward the revolutionary. And on their sophomore LP, Full Circle & Then Some, Trigger Hippy have shared their most cohesive and dynamic creation to date.
Opening with instantaneous groove, "Don't Want to Bring You Down" sets the stage for what's to come. Not just musically — though Ed Jurdi and Amber Woodhouse come together with Gorman and Govrik for a sensational bond — but also vocally and lyrically, this track captures the solidarity of the Trigger Hippy family. Highlighting the complex beauty of three singers joining forces, Jurdi, Woodhouse, and Govrik trade lines seamlessly, bringing a sense of awe and wonder to what could easily turn into a crowded space. But, as they sing, they're not looking to make music the simple way: "I ain't looking to do what's easy / But the fruit that hangs low just disappears / We can walk for miles on this road paved with gold / But we won't do nothing if we're just standing here."
The rest of the record lives up to its title as it goes full circle, and then some. That phrase references the sound not only of the album, but also of the irreplaceable work of each bandmate. With Trigger Hippy's latest, Gorman has found himself reviving his roots rock roots as hints of the Black Crowes — the band he started drumming for in 1989, at the very beginning of its existence — come to light, most notably on "The Butcher's Daughter" and "One of Them." Jurdi, who is used to sharing vocal duties with The Band of Heathens co-frontman Gordy Quist, shines alongside Woodhouse and Govrik and seems most at home on "Low Down Country Song." Govrik's playful and heartfelt contributions keep rhythm alive on every single track, perhaps best captured on the album closer when he sings, "Now I'm weak and I'm tired / From paving the road that you're on."
If there is a singular ingredient to the revolutionary-yet-classic sounds on Full Circle & Then Some, though, it is Woodhouse. A saxophonist who is proud to declare that she "blurs the lines between mainstream and the experimental," Woodhouse's vocals cover every inch of Trigger Hippy's new record, and she absolutely shatters the earth she's blazing when she opens the title track with the command, "Listen to me baby / I've got a lot on my mind."
Full Circle & Then Some might mark Trigger Hippy's second studio album, but it feels like a fresh start for the band and the beginning of something truly special. With Gorman and Govrik as the foundation and Jurdi and Woodhouse as the newest cornerstones, Trigger Hippy have crafted a powerful statement about what it means to reconcile the past with the present, all the while paving the way for what's to come.
---