Transplant Takes Listeners to an Exciting Place
---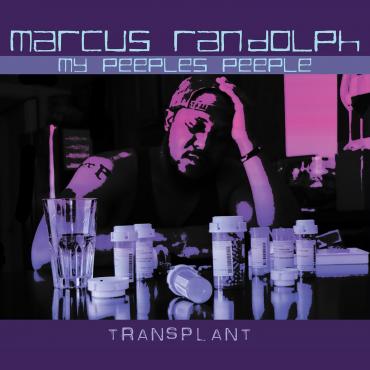 Music gets sent to me and I don't always realize when it's old. That's on me. So I got Marcus Randolph/My Peeples Peeple's Transplant and fell in love with it. It took me longer than I care to admit to realize it's been out since October 2017. Despite the fact it's not particularly new, I'm reviewing it because it's particularly amazing.
Randolph is the drummer for Robert Randolph and the Family Band, a beloved sacred steel group out of New Jersey. Transplant has him flying solo, while celebrating and commemorating a kidney transplant, with the kidney coming from his wife. The album cover even features Randolph staring out a table full of what hopes are transplant-related drugs. It's a touching story, but the music is what's really amazing, with Randolph playing drums, but also singing and handling guitar duties.
What makes the album so enjoyable is not just the individual songs, which are great, but also the variety between the songs, as well as the arc of the album. The album starts with "Transplant," an atmospheric, spoken-word piece over a hip-hop beat. That shifts into "Sucka," a relentless, chorus-less dirge, with lots of steel, a delicious groove, and funky guitar. There's no release–it's just pure funk that builds and teases. That moves into "Lift Me Up," featuring more tasty steel, but more in the vein of 70s country pop.
Randolph has a sweet, versatile voice. Just as the music adeptly moves between genres, his vocals also do a nice job of handling different kinds of music. "Fast Cash" has huge drums and loud guitars–it's a pure rock song, but Randolph's soulful vocals make the song something more complex. "Mad at the World" manages to rock even harder, with electric (both figuratively and literally) guitar work. The album ends on "Digging Me," a slow rhythm and blues track with funky guitar, beautiful keyboards, and sexy vocals, courtesy of Randolph and Brian Harris. It's the perfect ending to a lovely, well-crafted album.
Transplant is one brilliant surprise after another. It's not surprising that there's great steel. It's just a pleasant surprise that Randolph is such a talented steel player. And while it's fair to say he's not as good as his brother, it's just as fair to say that plenty of people would kill for Marcus' steel chops.
Go back and pick-up Transplant. It's a heartfelt mixtape by a talented artist celebrating not just his influences, but his second chance at life. Just as Dave Grohl shocked everyone when he stepped out from behind the Nirvana drum chair to front the Foo Fighters, Marcus Randolph is showing that he's a musical force to be reckoned with. His transplant didn't give him his considerable talents and creativity but the event served as a powerful lens to focus those energies. The results are worth hearing.
---